Body Positivity
Celebs Who Are Not Afraid To Show Their Natural Body
Always embrace your true self.
After years of permitting their imperfections to be Photoshopped, many female celebrities are now sharing photos of their true forms and flaws. And as a result, unrealistic beauty standards and the mentality that weight gain, stretch marks, cellulite, or skin imperfections are things to be hidden away are gradually shifting.
Not minding the cruel comments hinged on body image, celebrities are speaking out by getting honest about their appearance. They've been sharing candid photos of their body without filters, and it's safe to say they aren't ashamed in the slightest. Without holding back, have a look and enjoy! You'll definitely be inspired.
Jameela Jamil.
The founder of I WEIGH is all about showing her body in its un-Photoshopped state. And just recently, the 32-Year-Old insisted that b**b stretch marks are a normal, beautiful thing.
Lexi Mendi.
"I was thinking thrice if I wanted to keep this photo or dump it in the bin…ONLY because of my tiger stripes. I caught myself right before tossing it and just could. Not. Believe. How I let myself get so insecure about something so natural!!!" the Filipino blogger wrote alongside her beach snap [pictured above].
Barbie Ferreira.
Model Barbie remains confident about sharing intimate snaps of her body. In this one, the American body-positive campaigner showed her stretch marks that lead up to her stomach.
Khloe Kardashian.
Khloe is known for her rigorous workout routine, yet she's also not afraid to show off her 'stripes,' the nickname she has since given her stretchmarks.
Chrissy Teigen.
Teigen is known for keeping it real; therefore, it was no surprise to see the positive body advocate post this snap of her thighs with stretch marks.
Camila Cabello.
The 25-Year-Old singer-songwriter didn't mind the trolling as she recently showed her bikini bod in a pair of comfy orange shorts over her thong-style bottoms while enjoying a swim off the coast of Capri in Italy.
Robyn Lawley.
In this snap, the Aussie model showed off the stretch marks stemming from her bikini line as she urged her followers to 'love your body now.'
Stacey Solomon.
Stacey, 29, so much loves how much her stretch marks shine in the sun.
Melissa Suffield.
The ex-EastEnders star Melissa Suffield took to Instagram to share images that highlighted her pregnancy stretch marks. In the caption, she wrote they aren't ideal, not what she wanted, but they are what she naturally got.
Ashley Graham.
The 34-year-old is down to the earth with showing off her true self in photos. In the one, Graham – who at this time was expecting twins claimed her husband, Justin Ervin, says her stretch mark looks like the tree of life.
Gizele Oliveria.
The former Victoria's Secret model, seen by a pool in LA, took to Instagram to share a snap of herself sporting unedited stretch marks.
Rihanna.
The mom-of-one and founder of Fenty Beauty shared this snap from a holiday in May 2018. It showed stretch marks on her glutes.
Iskra Lawrence.
The British model has been refusing to airbrush her photos, and this shot, in which her 'stripes' are confidently displayed, is no different.
Lady Gaga.
Gaga fans were left stunned after the singer posted a selfie that showcased her stretch marks in all their glory.
Kayla Itsines.
"This one is for the ladies asking me if I have stretch marks anywhere; yes, I sure do….. and if any of my friends or family are on here you know how much I love them!! I am a woman, and I am proud to be one and have these marks," the 27-year-old wrote in the above picture, which showed her stretch marks.
Ashley Graham.
The model has proved she's happy in her skin for years. And to bolster her point, this bikini pic from 2017 100% nailed it.
Kylie Jenner.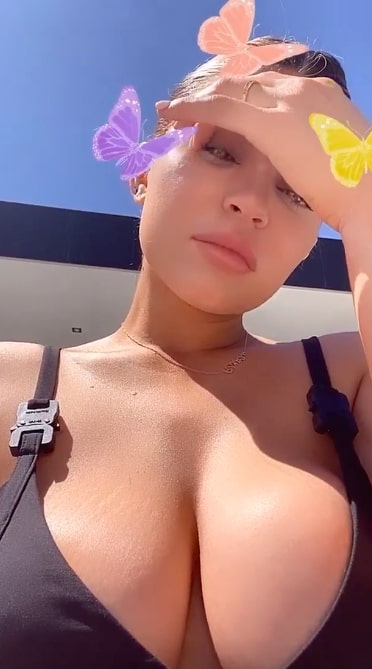 When Kylie posted a snap of herself on her IG story in which she showed the stretch marks on her b**bs, a Twitter user couldn't hold back but say: "I finally like a normal human after seeing that @kylieJenner also has b**b stretch marks!"
Camila Cabello
"Who am I trying to look attractive for, and am I even attractive to myself if I can't lose and relax and have fun and be playful on a beautiful day at the beach? I'm not yet at the point in my journey where I cannot give a f**k," the pop wrote, slamming the paparazzi for the body-shaming comments she had to endure.
Denise Bidot.
The Latina plus-size model has been vocal about body love, and this beachside selfie she shared on Instagram explained that she was "learning to love [her] body more and more each day – stretch marks, touching thighs and all."
Eva Longoria.
Longoria proves bikinis have no age limit. The actress posted this photo of herself with the caption: "It's all about angles and not breathing and sucking it in until you're about to pass out."
Cara Delevingne.
"I never thought I would need armpit hair again after getting laser. I was wrong," Delevingne wrote on Instagram about the change she made for her the movie HER SMELL.
Adele.
When asked whether her then-husband, Simon Konecki cared about her unshaven legs, Adele responded in an interview with Vanity Fair: "I'll have no man telling me to shave my fuckin' legs."
Ashley James.
Halsey.
The singer had been trolled for her unshaven underarm, but she had the best response. She wrote to Twitter: "It's an armpit you've put a sticker over. Not sure what else there is here to explain."
Paris Jackson.
Scout Willis.
The middle daughter of Bruce Willis and Demi Moore regularly shows off her armpit on her Instagram.
Bekah Martinez.
The former Bachelor contest had revealed she doesn't shave her legs or underarms as a practice of self-love. She added: "I decided to work to overcome this insecurity. It's not about not believing in shaving. It's about believing I AM BEAUTIFUL, ATTRACTIVE AND FEMININE."
Cardi B's Stomach Hair
Lizzo.
The confidence list wouldn't be complete without Lizzo. She couldn't be more accurate than when it comes to how she celebrates her stretch marks, regularly taking to Instagram.
Amanda Stenberg.
Hilary Duff.
After being body-shamed for her cellulite on vacation in Hawaii, the actress reacted by Instagramming a photo of herself in a swimsuit with her stretchmarks and cellulite in full view. Duff also gave tabloids a piece of her mind for calling her cellulite and stretch marks 'flaws'.
Kelly Rowland.
The song Humble by Kendrick Lamar seems to have a lot for body positivity. Like Karrueche Tran and Ashley Graham, Rowland also cited the song in this Instagram photo, where she was unashamed of the stretch marks on her thigh and a**.
Kaitlyn Bristowe.
When Bristowe first saw her cellulite, she cried to her fiancé. But soon realized that she had to accept the same body positivity she preaches, encouraging her followers to embrace their cellulite too.
Kourtney Kardashian.
The eldest of the Kardashian-Jenner clan posted this incredible boat shot which showed off her stretch marks in all their glory.
Demi Lovato.
The singer had shared a series of Instagram stories in which they discussed having cellulite, stretch marks, and a lack of thigh gap but still loving themself.
Katie Holmes.
Jessica Simpson.
Olivia Munn.
Hailey Bieber.
Hailey Bieber might be a supermodel, but she's not scared of baring her pores. She had previously opened up about skincare struggles; hence it's incredible to see her confidence in her skin.
Hunter McGrady.
Hunter never lets the haters get to her. She wears whatever she wants and is unashamed to show off a little cellulite.
Tess Holiday.
"Haters will say it's Photoshopped. Some will tell me to cover up. Others will say I'm promoting obesity. Whatever they say, I will still get up in the morning with my head held high, wrapped in the arms of a man who loves me and my fat body and to my kids smiling when they wake up and see their mom… So really, I will stay winning."
Karrueche Tran.
Danielle Brooks.
The Orange Is The New Black Star is comfortable in her skin. She always flaunts her curves on the gram and is proud of her body.
Mo'Nique.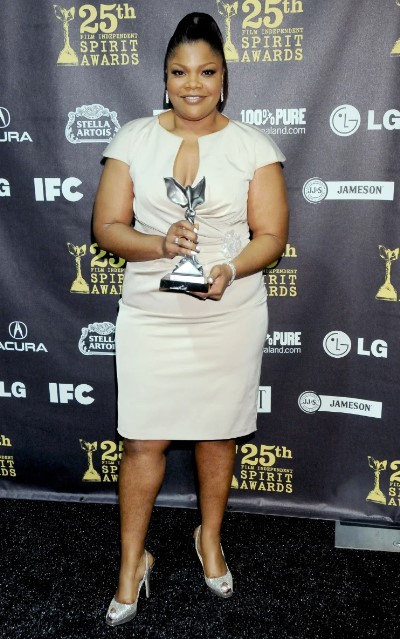 The public had been set abuzz with talk of Mo'Nique's hairy legs. In response to the backlash she got, she told Barbara Walters of her experience with shaving: "It was uncomfortable and painful. I said never again would I do that to myself."
Celine Dion.
She had drawn criticism after she performed with visible leg hair. But thankfully, most people were on Celine's side, noting that the beauty standards set for women in entertainment are insane.
Ali Fedotwsky.
The former Bachelorette star shared her post-pregnancy body on Instagram, smiling by the pool with daughters Molly and Riley. She wrote in the caption: "I look at my tummy and then I look at his smiling face and just like that, in my eyes, my so-called flaw becomes my greatest gift."
Jenna Jameson.
The former adult film star didn't hold back at showing off some loose skin she suffered due to losing weight. She wrote: "It's not all perfection. But I feel so beyond healthy now that I'm fat adapted and intermittent fasting on the regular."
Bebe Rexha.
The singer is a huge supporter of showing off what a real woman looks like on Instagram without Photoshop. She had written in the caption of this photo: "I probably should of Photoshopped my stomach and made it look flat. But I didn't. Society can really f**k with you."
Gabrielle Union.
Jamie Lee Curtis.
The actor and writer have said she wants there to be no more hiding what our bodies look like, after revealing she's been sucking in her stomach since she was aged 11. In her role in Everything Everywhere All At Once, she used her stomach rather than prosthetics.
Kate Winslet.
The titanic actress remains outspoken about her discomfort with Photoshop. She had gone as far as to ask that her airbrushed face be returned to normal on movie posters and magazine covers.
Drew Barrymore.
How many Hollywood stars can spot unruly brows and have the odd grey? Not all can proudly share them in their natural glory like Barrymore.