Beauty
19 Celebrity Women Who've Normalized Body Hair
It's 2021, and yet again, everybody has body hair!
The mindset most women grew up with has really limited what makes them unique. Over the years, women have been taught to see different as bad, but this is undeniably a harmful way of thinking. In particular, body hair spotted on a woman has been perceived as taboo. It even becomes quite toxic when natural body hair is spotted on celebrities.
But thankfully, social media has recently become much more accepting of people with body hair. This is a good goal, especially as body hair has been stigmatized on women, and women should be able to choose whether or not to grow their body hair. A big thanks to Januhairy, a growing appreciation of celebrities, including Gigi Hadid, who are coming out as activists of keeping it all-natural. Have a look!
Ashley Graham.
When you talk about being courageous, Model Ashley is! The 31-Year-Old has remained honest and open as a model and parent throughout her career. In 2017, she had told Glamour: "Honey, I have a full bush. Period. It's about your preference and your partner's preference."
Rihanna.
Rihanna would pass a fashion icon. And this is because she can literally tear armholes in a leather bag and still look chic and classic. However, the singer shared a holiday pic of herself on IG, and her fans couldn't get enough. She had shown off her leg hair in it as she made into-the-camera eye contact.
Lourdes Leon.
Like her mom Madonna, Leon has always been proud of her body hair, even when she's on the red carpet. On April 10, the model alongside her mom took a selfie-and in it, Leon, who rocked a stunning dress, flaunted her armpit hair.
Leandra Cohen.
Leandra is the founder of the fashion site Man Repeller, and indeed she has never played the rules as she prefers to shun make-up and with a special appreciation for harem pants. In this IG post, Leandra proved she's chic in anklets and leopard print as well as in gorgeous leg hair.
Gigi Hadid.
In a 2017 Photoshoot with LOVE Magazine, the supermodel couldn't be more proud of herself as she flaunted her enviable biceps and a layer of hair under her armpits.
Bella Throne.
In 2017, Throne was in the news after a paparazzi took a photo of her at the beach with unshaved armpits. Thankfully, the ex-Disney star defended herself via a tweet that read: "Hahaha, don't they know I never shave?"
Cardi B.
Moschino shared a pic of Cardi B wearing a crop top after her performance at the Grammys in 2018. And within minutes, some of her fans commented that her stomach hair needed shaving. However, the rapper didn't defend herself against the criticisms but has continued to show off her stomach in numerous videos ever since.
Amandla Stenberg.
For the London premiere of the movie, The Hate U Give in 2018, Stenberg showed up in a sleeveless black gown, which showed that her underarm hair wasn't shaved or perhaps removed. The actress didn't seem to bother as she confidently posed for the cameras.
Julia Michaels.
In 2021, Julia showed up to the Grammy Awards with unshaved armpits, yet she flashed them for photos while posing on the red carpet. Even in her music video 'Lie Like This,' the singer flaunted her underarm hair and tweeted a few months back that she was not shaving her armpits ever again. She added: "I don't know why I ever did before. Social norms can eat eggplant."
Marsai Martin.
In an Instagram post she shared in October, Marsai got candid about her body hair. Alongside a photo of herself lounging in the grass, donning a burgundy button-down dress, the young actress had written: "Normalize girls having hairy legs."
Paris Jackson.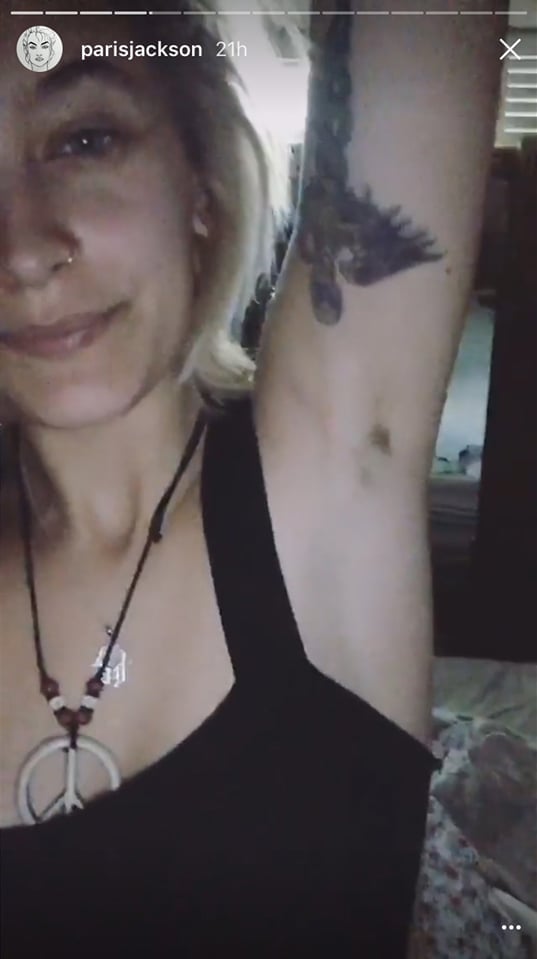 Just when Paris took to her Instagram in 2017 to share she had been growing out her armpit hair, it was instantly met with cruel remarks. But thankfully, she responded confidently, saying: "I love hair, and sweat, and BO. I f***king love it. I think it's great. Some people think that it's like super disgusting, especially on girls, but every human body does it. It's natural. Get over it."
Hasley.
Sounds Like Friday Night ❤️ pic.twitter.com/nitFLI4p3S

— h (@halsey) April 6, 2018
In 2018, having shared a few selfies on Twitter, trolls attempted to shame Halsey, poking fun at her armpits. One of the trolls had placed a LOL sticker over the Bad at Love Singer and wrote, "What the hell is this?!! And indeed, she responded, saying: "It's an armpit you've put a sticker over. Not sure what else there is here to explain?"
Scout Willis.
If you are a die-hard fan of Willis, 25, then it shouldn't be of a surprise that she flaunts her body hair. Willis, the second daughter of Demi Moore and Bruce Willis, shows herself embracing her underarm hair in most of her Instagram photos.
Emily Ratajkowski.
When she posed for a Harper's Bazaar cover, fans couldn't help but spot her armpit hair. In an accompanying essay, the model insisted hair removal is a personal choice for all people. She explained that body hair is another opportunity for women to exercise their ability to choose – a choice based on how they want to feel and their associations with having or not having body hair.
Miley Cyrus.
In a now-deleted Instagram post, Cyrus flaunted her underarm hair after she dyed it hot pink. But then, the singer filmed herself waxing the hair off on her IG stories.
Rowan Blanchard.
In February, Blanchard, not minding what some of her followers would say, confidently showed off her armpit hair in a photoshoot for Cultured Mag.
Willow Smith.
In a 2017 video, Willow's underarm hair was visible as she shared of herself shooting arrows. On an episode of Red Talks with her mom, Jada Pinkett-Smith, and grandma Adrienne Banfield-Jones, she addressed why she's more comfortable with not shaving. "It takes too much time. I just want to get in the shower and get out of the shower. I'm going to be like my ancestors and just do what I need to do."
Gwyneth Paltrow.
Over time, Paltrow has been open about not shaving or waxing. In 2013, she attended a red carpet donning a sheer dress and had to go commando. The actress spoke of the experience during her appearance on Ellen, saying: "Well, let's say everyone went scrambling for a razor. I work a '70s vibe. You know what I mean?"
Madonna.
Madonna is herself, today, tomorrow, and forever! The singer is best at surprising her audiences, and undeniably, this 2014 photo of her sporting a burlesque look with some hairy armpits has remained iconic.
Related Topics:
Armpit Hair, body hair, body positivity, celebrity, Celebs And Body Hair, entertainment, Facial Hair, news, Social Issues, Underarm Hair, viral, women