celebrity
41 Celebrity Relationships That Prove Love Can Last Forever
True love lasts.
Celebrity couples come and go! Notably, they come and go so fast that it can be pretty challenging to track who's dating who. But then the following couples and their forever commitment to each other, whether in marriage or relationship, have proved that not all is lost. It isn't all celebrity relationships that witness a break-up.
Some of them have stuck together for a lifetime, and it's absolutely inspiring. What did they do to last this long together? They avoided all the negativity despite their affair being open for all to see and air their opinions on. We've compiled 40 celebrity couples that have reassured the world that romance remains alive and not dead. Have a look!
Penélope Cruz and Javier Bardem.
This pair began dating in 2007, although they had first met in 1992 on the set of the Spanish film Jamón Jamón. They got married in 2010 and have since welcomed two kids, Leo and Luna, together. Being married hasn't hindered their career path as they've also starred alongside each other in films like Vicky Cristina Barcelona, for which Cruz had won an Oscar in 2008.
Cindy Crawford and Rande Gerber.
In 1998, the supermodel married Gerber, an ex-model and businessman. Kaia and Presley, also successful models, are their two children.
Emily Blunt and Joh Krasinski.
This couple got married in Italy in 2010. While they recently just worked together on A Quiet Place 2, the parents of two will celebrate another their eleventh wedding anniversary this summer.
Matthew McConaughey and Camila Alves.
The couple married in Texas in 2012 after six years of dating. They both have three children together.
Alicia Keys and Swiss Beatz.
Since they were teenagers, the singer and producer had been friends, but they didn't start dating until the 1990s, and Swiss proposed in 2009. The pair married in 2010 and have two boys, Egypt and Genesis.
Chris Hemsworth and Elsa Pataky.
This couple has been married for over ten years, yet they haven't shielded away from professing their love for each other. They've since welcomed three children together, India and twins Tristan and Sasha.
Jamie Lee Curtis and Chistopher Guest.
Curtis and Chistopher, a director, got married in 1984. Appearing on the New Yorker, the scream queen of horror movies had recounted how 35 years before, she had seen Chistopher's photo in Rolling Stone Magazine and told her friend she would marry that guy. Yes, it happened!
Nicole Kidman and Keith Urban.
The Australian actress got married to the country singer Keith Urban in 2006.
Viola Davis and Julius Tennon.
The actress has been married to her husband Julius since 2003.
Denzel and Pauletta Washington.
This couple has been married for 37 years after tying the knot in 1983. They renewed their vows with Archbishop Desmond Tutu officiating in 1995 and are proud parents to four children. Their eldest, John David, had a starring role in the Oscar-winning movie BlacKKKlansman.
Victoria and David Beckham.
The Beckhams, who have four children together, Brooklyn, Romeo, Cruz, and Harper, got married in 1999 after they met in 1997.
Jessica Alba and Cash Warren.
Jessica met with Warren, an assistant to the director, on the set of the film Fantastic four in 2014. They've been married for 12years and have since welcomed three kids together.
Anna Kournikova and Enrique Iglesias.
Kournikova and Iglesias started dating in 2001 and have since welcomed two children together.
Catherine Zeta-Jones and Michael Douglas
Zeta-Jones and Douglas tied the knot in 2000 and have welcomed both a daughter and a son.
Shakira and Gerard Piqué.
They met on the set of Shakira's 2010 music video for her World Cup anthem, "Waka Waka (For Africa)." The singer and the FC Barcelona footballer have two children together.
Oprah Winfrey & Stedman Graham.
After meeting him at a charity event in 1986, Winfrey began dating Graham. The pair got engaged in 1992 but decided not to get married.
Tom Hanks & Rita Wilson.
Hanks met Wilson while he was still married with two children on the set of the 1985 film Volunteers. He eventually got divorced and tied the knot with Wilson in 1988. They have since welcomed two sons together.
Tina Fey and Jeff Richmond.
Since 2001, the Mean Girls writer has been married to her composer's other half. The pair have worked together on shows including 30 Rock and Unbreakable Kimmy Schmidt. Alice and Penelope are their two daughters.
Meryl Streep and Don Gummer.
After Streep's BF, John Cazale, tragically passed away in 1978, her brother's friend, Don Gummer, lent her his apartment. In a twist, they both got married later that year and have welcomed four children, Henry, Mamie, Grace, and Louisa together.
Pink and Carey Hart.
This couple has been married since 2006 and has two children together, a daughter Willow and a son Jameson.
Cobie Smulders and Taran Killam.
Cobie has been in a relationship with Saturday Night Live alum Killam since 2005, but they got married in 2012 and have welcomed two children together.
Reese Witherspoon and Jim Toth.
After dating for just over a year, the Big Little Lies star married her talent agent beau in California in 2011. They have since welcomed a son, Tennessee, together.
Dave Franco and Alison Brie.
Friends set this couple up at New Orleans' Mardi Gras celebrations in 2011, and fortunately, things kicked off, and they got married in 2017.
Dame Helen Mirren and Taylor Hackford.
The British actor and American director started their relationship in 1986 and tied the knot on New Year's Eve in 1997.
Lucianna Barosso and Matt Damon.
The Boston native met with Argentinian actress Lucianna in 2003 while filming the comedy Stuck on You together. Eventually, they tied the knot in 2005.
Chrissy Teigen and John Legend.
Teigen and Legend met in 2007 on the set of his music video and tied the knot in 2013. The fan-favorite couple now has a daughter called Luna and a son called Miles.
Dax Shepard and Kristen Bell.
They kicked off an affair in 2007 and got engaged in 2010. But the duo had refused to get married until same-sex marriage became legal in California. Thankfully, they tied the knot four months after the legislation passed in 2013 and have welcomed two daughters together.
Beyoncé and Jay-Z.
This power couple started dating in 2002 and got married in a secret ceremony in 2008. They have since welcomed three children together, Blue Ivy and twins Sir and Rumi.
Eva Mendes and Ryan Gosling.
Eva and Ryan met on The Place Beyond the Pines set in 2011. They are quite a private couple but have welcomed two daughters together.
Blake Lively and Ryan Reynolds.
Reynolds met Lively on the set of Green Lantern in 2010, and they married in 2012. They welcomed three daughters together, Inez, James, and Betty.
Salma Hayek and François-Henri Pinault.
The Oscar-nominated actress and Kering CEO welcomed their daughter, Valentina, together in 2007 and tied the knot two years later in 2009.
Goldie Hawn & Kurt Russell.
Hawn was married twice and had two children with her second husband before meeting Russell in 1984. Since then, they've been together and have welcomed a son named Wyat Russell.
Sacha Baron Cohen and Isla Fisher.
Baron and Fisher met in 2002 and got married in 2010 after Fisher converted to Judaism. They have since welcomed three children together.
Neil Patrick Harris & David Burtka.
Harris and Burtka, who have welcomed a daughter and a son together, started dating in 2004 and married in 2014.
Ellen De Generes & Portia De Rossi.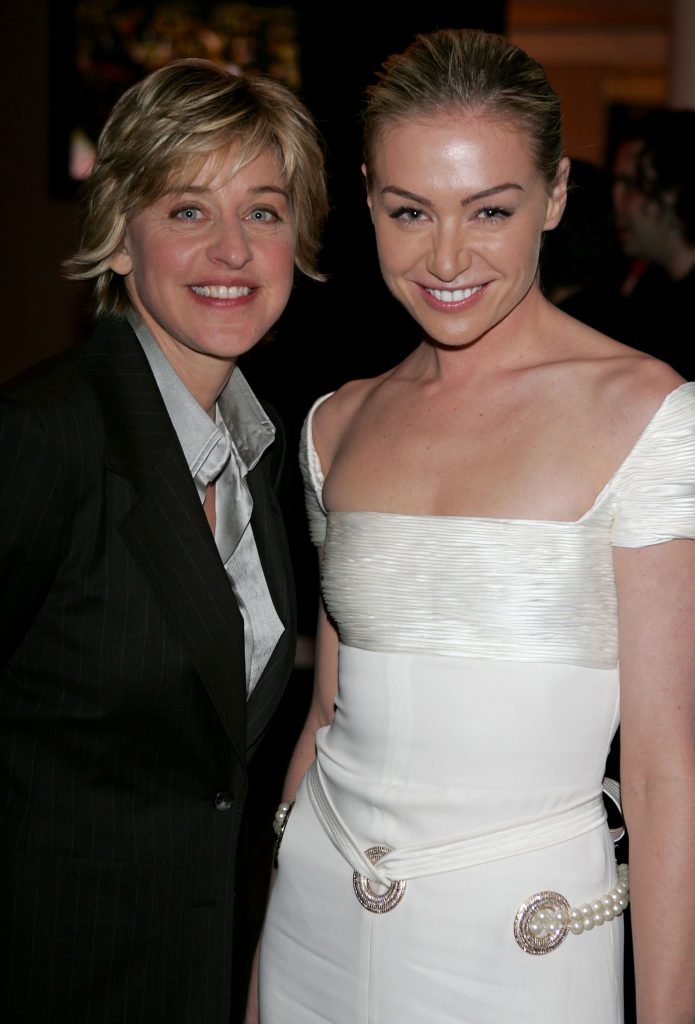 This same-sex couple met in 2004 and married in 2008.
Judd Apatow and Leslie Mann.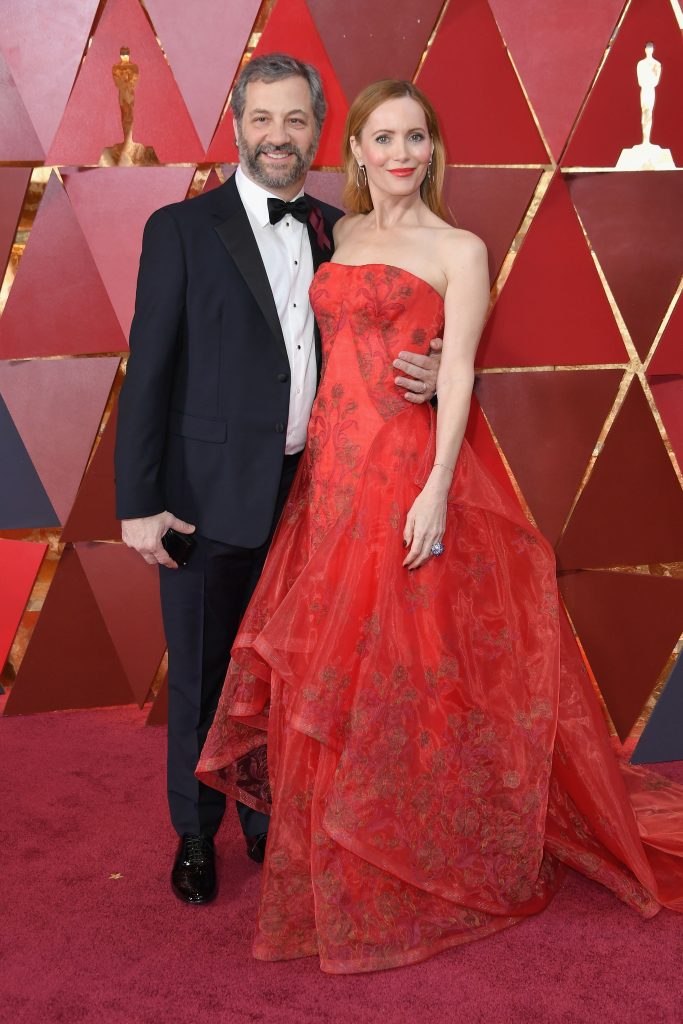 The actor and comic director have been dating since 1996 and eventually got married in 1997. The pair with two daughters, Maude and Iris, had worked together on films such as Knocked Up, The 40-Year-Old Virgin, and Freaks and Geeks.
Adam Brody and Leighton Meester.
It's believed this couple met in 2010 when they starred in a romantic comedy named The Oranges. In 2014, they eventually got married and had since welcomed two children together.
Freddie Prinze Jr and Sarah Michelle Gellar.
Freddie and Sarah had met amid filming I Know What You Did Last Summer in 1997. They got married in 2002 and have welcomed two children together.
Julia Roberts & Daniel Mode.
In 2002, Roberts and Mode tied the knot. They have three children together. Interestingly, their daughter Hazel had made her red carpet debut at Cannes Film Festival with her father.
RuPaul and Georges LeBar.
The Drag Race host has been with partner LeBar since 1994 and tied the knot in 2017.
Amy Adams and Darren Le Gallo.
This celebrity couple met in 2001, got married in 2015, and have one child together.