celebrity
This Celebrity Couple Proved Love Can Last Forever
"Just love each other, love each other every day."
If you are a true fan of the movie 007, you will agree that James Bond, played by Pierce Brosnan, was an ultimate ladies' man. However, this seems so different from his real-life relationship. Pierce is nothing like his onscreen character and, interestingly, had been with the same woman for 27 years and still counting.
Pierce, who was once nominated as the Sexist Man Alive, has proved that off-screen romance is better off than in any movie. Just recently, he, without holding back, defended his beautiful wife Keely Shaye Smith over societal expectations of perfect shape and showered her with immense love and support in front of the judgmental public.
"Friends offered her surgery to reduce her weight. But I strongly love every curve of her body."
"She's the most beautiful woman in my eyes. And also because she had our five children."
In 2021, the actor and Smith celebrated two decades of marriage [27th anniversary], and as seen, the pair are still so much in love with each other. Pierce is never shy from expressing his feeling about Smith, and of course, the internet just can't get enough of the duo.
In 2021 also, Pierce celebrated his wife's 58th birthday, sharing a candid family snapshot with his audience.
In 1991, Pierce never believed he would find love again, losing his first wife to cancer. But not until he met with Smith in 1995 at a beach party in Mexico.
Speaking to PEOPLE, Smith had recalled: "He was captivating. Tall, dark, and handsome, everything that everybody would immediately be attracted to. He had this mischievous sparkle in his eyes. I thought, 'Wow! Wow!" The pair had their first date days later, where they chatted until the early hours of the morning.
Pierce also told the magazine he couldn't get enough of Keely when they first got together.
When they met, Smith was a TV Journalist in Cabo San Lucas. Seven years later, in 2001, the two tied the knot. The big day took place in Ireland at the 785-Year-Old ballintubber abbey in county Mayo. Since then, the duo has managed to keep their romance alive through some innocent public display of affection and quality time.
In an interview with Independent, the Irish-born actor had said his favorite thing about Smith is her passion.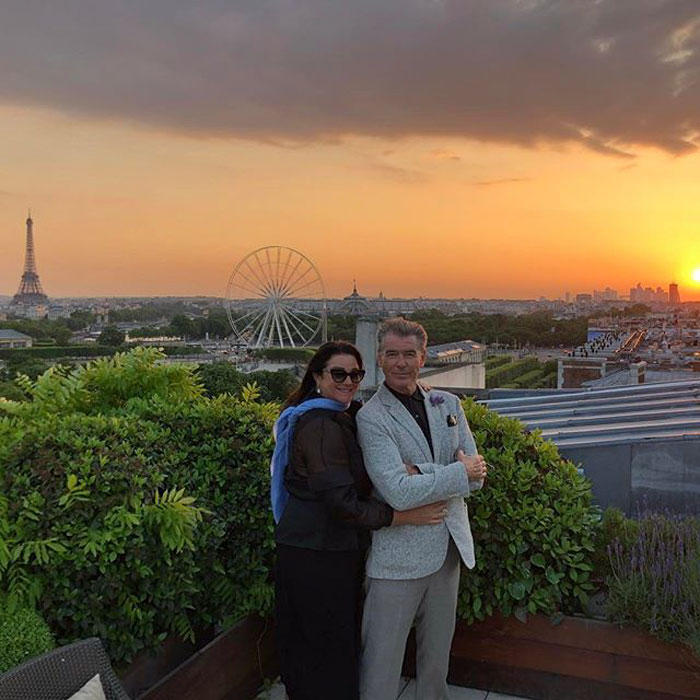 He stated: "She has this strength that I wouldn't be able to live without. When Keely looks at me, I go weak."
Losing his first wife wasn't all; Pierce had equally lost his daughter Charlotte to Ovarian Cancer. At the time, friends of the couple claimed it was Smith's ability to provide emotional support for her husband that has helped Pierce get through his bouts of depression. In an interview, the actor also addressed the latter, saying: "She has this strength that I wouldn't be able to live without."
Currently, the couple has two sons together, 17-Year-Old Paris and 21-Year-old Dylan.
While their lives might be pretty busy due to Pierce's filming schedule, Smith's writing career, and parental responsibilities, the duo always make time for one another. Pierce had told PEOPLE that the secret to their happy union is quality time and that he and his wife often go for a romantic weekend where they don't listen to music but just listen to each other's voices and sort out the world.
Even after celebrating years of anniversaries, the couple still can't enough of each other. What a man! What a woman!
However, it seems Smith is cool with her husband's on-screen romances, which she has since funnily described as legal cheating.
Pierce reportedly claimed his on-screen character doesn't bother his wife, adding that: "She has a great sense of humor about it, a great sense of who she is as a woman and security and faith within me." Smith even sounded as though she enjoyed her husband's appreciation of other women and told People Magazine: "I understand why women find him sexy because he's an appealing man. He really likes and appreciates women."
Related Topics:
celebrity, entertainment, inspiration, James Bond, Keely Shaye Smith, love, news, Pierce And Wife Smith, Pierce Brosnan, True Love, viral