Beauty
Kim Kardashian, Katy Perry, Jessica Chastain, And More 'Canceled' Fourth Of July
Privacy appears to have been taken from women.
While millions of Americans celebrated the nation's 246th birthday on July 4th, prominent liberals and some celebrities used the holiday to denigrate the United States instead, pointing fingers at the Supreme Court's June 24th decision overturning Roe v. Wade. Among such voices is Oscar-winning actress Jessica Chastain.
Taking to Twitter, Chastain wrote: "Happy independence Day from me and my reproductive rights," alongside a photo of her displaying both middle fingers.
Weighing in on the subject matter, Kim Kardashian, Kris Jenner, and others suggested the Fourth of July be canceled this year. Both Kim and Kris were among those who addressed the disparity between Independence Day and the lack of independence women now have over their bodies amid the controversial decision.
"4th of July has been canceled due to a shortage of Independence. Sincerely, women," a post from @bitton reads.
Several celebs, including Succession star J. Smith-Cameron, have since shared @bitton's post of a pink and black text graphic. Accordingly, singer Katy Perry referenced her song "Firework" to make a statement regarding women's rights on Twitter. She wrote: "Baby, you're a firework is a 10, but women in the US have fewer rights than an actual sparkler smh."
Zooey Deschanel aired her voice through this shirt with the statement: "Pro 1973 ROE."
She captioned the snap: "For when you want to wish America a happy birthday, but also want her to do better." Padma Lakshmi insisted there was not much to celebrate this 4th. She took to Instagram and wrote: "Let's just hope everyone can keep safe and peaceful today and that soon our nation veers away from this precipice. No matter what, we'll keep fighting for the day where all humans have the same rights."
Padma added: "At least of their own person and body, have privacy to make their own choices and to love whom they love and live in peace."
Activist Jameela Jamil also weighed in, offering some powerful words on different social media platforms.
She said: "Independence Day, unless you have a uterus. Then go f–k yourself and we don't care if you f–king die or if we derail your entire future and mental health-day I guess? Cool." Furthermore, model Brooklyn Decker argued that this country doesn't work for everyone or keep everyone safe. She wrote on Instagram: "Today I carry both an abundance of gratitude and a swelling of anger. I know I share that with so many of you."
And added: "May we sustain our fury to propel this complicated country forward and not further backward."
Since the abortion law was overturned in June, female celebrities have spoken out to support a woman's right to choose while sharing their abortion stories. Sophia Bush and Alyson Stoner were among those who spoke out after a 10-year-old rape victim was reportedly denied an abortion in Ohio. They re-shared the post on their Instagram, and Stoner said, "Anyone else finds it hard to tap into the 'holiday' spirit when this is the reality in front of us?"
As of now, several US states have triggered laws that call for banning abortion up to 30 days after the overturning of Roe v. Wade.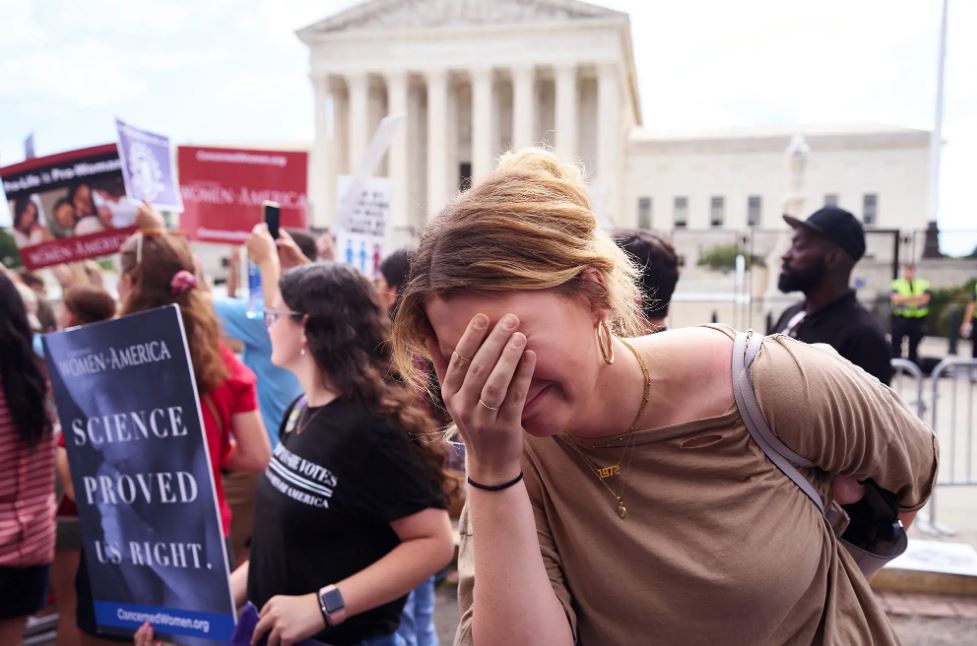 However, for 33 consecutive years, NPR "Morning Edition" host Steve Inskeep celebrated July Fourth by reading America's founding document. That ritual came to an abrupt end this year. Taking to Twitter, co-host Leila Fadel shared: "This July 4th, we break with tradition. "Instead of a reading of the Declaration of Independence, @NPRinskeep examines what equality means and has meant in this document. Important segment about our past and future."
Rep. Anna Eshoo (D-Calif.) also said on Twitter that this Fourth of July is "overshadowed by the dark reality of the Supreme Court's decision that makes half of America less equal."
She added: "Instead of celebrations & BBQs, many are opting to do the most American thing they can do today: protest peacefully." Similarly, ​Claudia Conway, the daughter of former Trump administration staffer Kellyanne Conway and political pundit George Conway, marched in an abortion rights protest in New Jersey and questioned why Americans should buy into "July 4 propaganda."
​She pointed out: "We're not free. Why should we be celebrating independence when not all of us have independence? ​And that's why we're out here fighting for our reproductive rights, challenging the overturn of Roe v. Wade by the Supreme Court."
ESPN writer Howard Bryant penned his thoughts in a column headlined "Baseball, barbecue and losing freedom this Fourth of July." He wrote: "It is Independence Day in America with independence under current and relentless assault. From Miranda rights to the environment to the separation of church and state to guns, many people are reeling. The U.S. Supreme Court has run a chain saw through what two generations of Americans had known to be the legal baselines of their lives."
He opined: "The people who can become pregnant who feel celebratory toward the Court may do so from the victory of their position, but it nevertheless remains true that the power of choice and the right to privacy has been taken from all of them."
Here's How The Internet Also Reacted: