Beauty
42 Of The Most Stunning Outfits Jennifer Lopez Has Ever Worn
Slaying with every look.
When you think of style icons, you possibly think of celebrities like Kim Kardashian and Naomi Campbell. But while we all have been in love with Jennifer Lopez for as long as we can recall, her fashion figure can't also be neglected. Most of her fans have their favorite Jlo's outfit, and as a multi-performer whose career progression isn't just limited to singing has undeniably built a fashion legacy.
One thing that stands out for the actress nostalgia other than at the age of 52, she still looks like she did in her twenties in her WARDROBE. From choosing risky outfits that a mere regular person could never wear to fiercest, most extra outfits, it doesn't appear that Jennifer is stopping soonest, and YES, her looks are head-to-toe perfection and always unique. She remains the definition of staying true to herself and her style with every outfit. Have a look!
Jennifer Receives The Icon Award In This Deep Plunging Bodysuit With Sheer Skirt At The 2022 iHeartRadio Music Awards.
Jennifer In Head-To-Toe Denim By Designer Alexander Wang For Screening Of Hustlers In New York City 2019.
Jennifer Lopez went underwear-free in a black gown with sheer panels to the premiere of her documentary Halftime at the Tribeca Festival.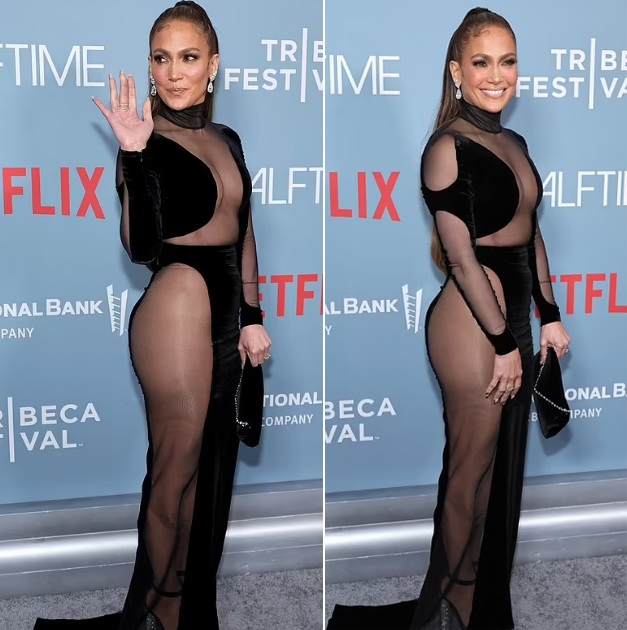 She Wore This Long-Sleeve Dress Dripping In Sequins And Coordinating Accessories For Toronto International Film Festival In 2019.
The Actress Sparkled In This Versace Gown At The 2019 Met Gala, Accessorized With A Bejeweled Headpiece.
Jennifer Attended The Second Act World Premiere In NYC, Wearing A Hot-Pink Tulle Gown By Giambattista Valli.
She Made A Statement In This Long-Sleeve Dress With A Super-High Slit For The Robin Hood Foundation's 2018 Benefit In New York City.
J.Lo Showed Off Her Abs At The 2017 Billboard Latin Music Awards In Coral Gables, Florida.
Here She Is Still At The 2017 Billboard Latin Music Awards In Coral Gables, Florida Wearing Another Black Plunging Dress.
J.Lo Arrived The 2016 Golden Globes Red Carpet In This Yellow Giambattista Valli Gown, Complimented With Silver Heels, Clutch, And Necklace.
Jennifer Stuns In This Slicked-Back 'Do, Sparkly Silver Heels, And Neutral Halter Dress For The 2014 American Music Awards.
She Arrived At The 2013 Golden Globes In This Figure-Hugging Lace Zuhair Murad Dress Paired With A Metallic Clutch And A Regal Wavy Hair-Do.
J.Lo Accepted Her Win For Favorite Latin Artist At The 2011 VMAs In This One-Shoulder Sequined Dress With A Halter Neckline And A Hem.
The Iconic Singer Stepped Out Of Her NYC Hotel In 2009 Wearing This Long-Sleeve Red Minidress, Matching Heels, And A Leopard Tote.
Jennifer Had Put On A Show At The 2007 American Airlines Arena. A Dream Wearing This Bright Color Attire.
In 2006, She Appeared Angelic As She Arrived At The Red Carpet Of The Met Gala In This Pale Pink One-Shoulder Dress.
J.Lo Arrived At The 2005 NRJ Awards In Cannes, France, Wearing A Ruffled Printed Dress And Tall Boots.
She Attended The Premiere For Her Film Gigli [2003] In This Plunging Brown Dress With Cutouts And A Thigh-High Slit.
Jennifer Wore This Gorge Satin Gown With Sparkly Straps With A Metallic Clutch And Intricate Updo For The 2005 Billboard Latin Music Awards.
In 2019, The Singer Posed in This White Feathered Coat, Sky-High Platform Heels, And Sunglasses In Manhattan.
Here's Jennifer Ensemble At The 2020 Super Bowl Halftime Show. She Had Performed Alongside Shakira.
In 2019, The Fashionista Showed Up To The Toronto Internal Film Festival In This Marigold Maison Yeya Gown With A Low Neckline.
J.Lo Attended The 91st Academy Awards [2019] In This Silver Dress.
She Was Spotted In New York City In 2018 Wearing This Oversize Button-Down Shirt, A Mini Birkin Bag, And Standout Thigh-High Denim Boots.
The Singer's Back Short Do And Rigid Shoulders In This Ensemble Had Heads Turned When She Arrived On The Red Carpet Of 2018 Met Gala.
For The 2013 Billboard Music Awards, The Pop Star Shined In This Lunging Gold Embellished Dress With Matching Strappy Heels.
J.Lo Attended The 2012 Academy Awards In This Plunging Striped Gown, Which Also Has A Major Backless.
For Tony Bennett's 80th Birthday Celebration, She Gave Regal Vibes In This Plunging Halter Gown Featuring A Bejeweled Belt.
Here, She Rocked A Strapless Bronze Dress, Strappy Heels, And Shoulder-Grazing Earrings For The 2004 MTV Video Music Awards.
For The 2008 Met Gala, J.Lo Wore This Tiered, One-Shoulder Armani Dress With A Bejeweled Neckline And An Attention-Grabbing Bangle.
Jennifer Wore This Sequined, Lace, And V Sheer Black Gown To The 2016 Latin Grammy Awards In Las Vegas.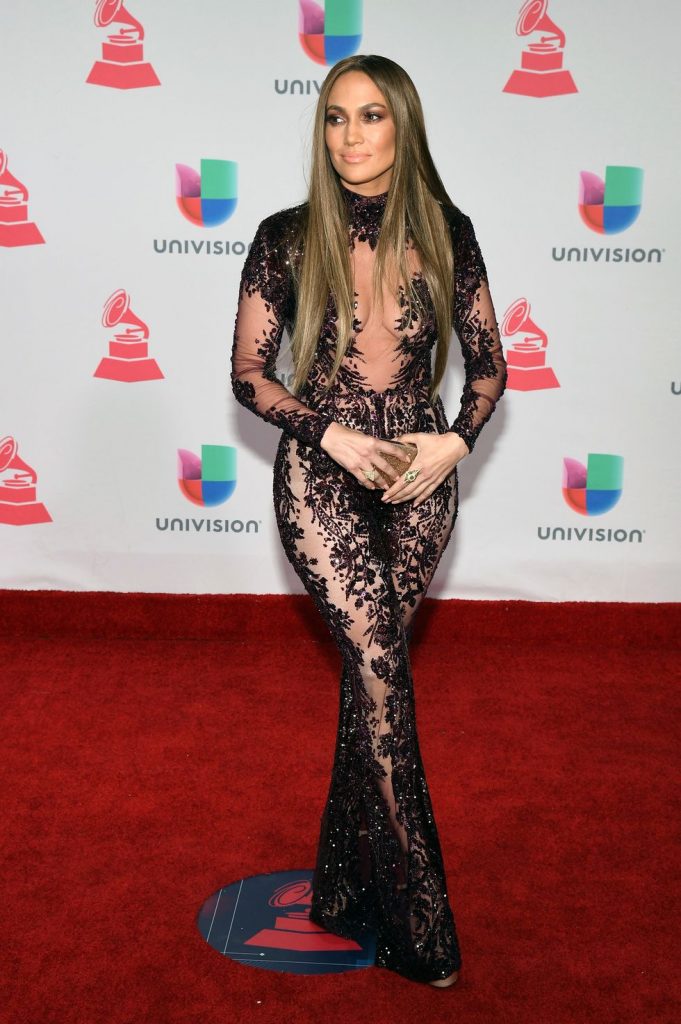 In 2019, The Pop Singer Wore This Burgundy Leather Getup With A Matching Beret And Metallic Gold Heels For A Photo Call For Hustlers In Los Angeles.
Here, She Wears A Ralph And Russo Dress To The 2019 Grammy Awards.
She Had Looked Like A Modern Cinderella In This Blue Valentino Gown For The 2017 Met Gala.
The Beauty Attended The 2015 AMAs In This Strappy Blue Gown, Statement Rings, And High Bun
J.Lo Wore This Bedazzled, Strappy Charbel Zoe Dress For The 2014 MTV Video Music Awards.
Wasn't She Gorgeous In This Snakeskin Lewk? Jennifer Rocked This To The Capital Radio Summertime Ball In 2011.
For The World Music Awards In Monaco, The Actress Dazzled In This Deep-V Cheetah Dress, Complimented With A Statement Jewelry.
She Had Given The Princess Vibes When She Stormed The 2015 Tony Awards In This Embellished Navy-And-Gold Valentino Gown.
Jennifer Arrived At The 2018 MTV Video Music Awards In New York City Wearing This Asymmetrical Sequin Gown And Silver High Heels.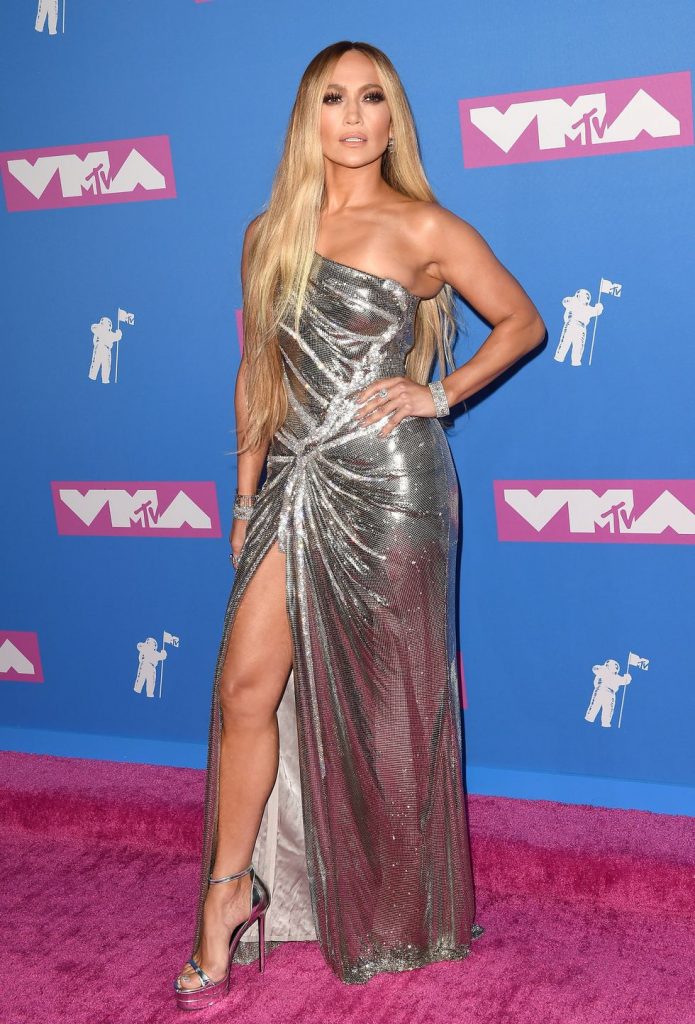 For The 2019 CFDA Fashion Awards, Which Held At The Brooklyn Museum, The Singer Arrived In This Bright-Orange, Ab-Baring Crop Top And Skirt By Designer Ralph Lauren Collection.
Jennifer Performed Onstage In California During Her 2019 It's My Party Tour In This Glittery Jumpsuit.