Beauty
40 Most Striking Red Carpet Outfits Ever
Personalities expressed through fashion!
Narrowing down a list of gorgeous red carpet outfits is no easy task! But then, some outfits or perhaps styles just speak for themselves and can't be overlooked. A-listers continuously spend months liaising with designers for the right gown or suit that will perfect their skincare and ensure their makeup look comes together exactly the way they've envisaged.
The whole point of the latter is to exhibit their personality. But for fans, red carpet moments, which also sees some celebs pushing the limit of fashion sense a little far, are an opportunity to witness the newest fashion trends for some inspiration. Here, we've collated 40 celebrities' wardrobe choices to make you look at your screen twice. Enjoy!
Sofia Vergara At The 2014 Golden Globe Awards.
With her drop-dead gorgeous looks or dazzling grin, Sofia has remained one of the most sought-after figures in Hollywood.
Rita Ora At MTV Music Awards.
The self-assured British singer opted for this stunning crimson gown that perfectly matched her blond hair, giving her the look of a modern Marilyn Monroe.
Chrissy Teigen At The American Music Awards.
The model ensured she didn't disappoint when she arrived on the red carpet of the American Music Awards. She's of a good look, incredibly successful as a model, and the wife of music sensation John Legend.
Madonna At The 2015 Grammys.
You'll agree that Madonna tops the list of people who can confidently mix fashion and seduction. At the 2015 Grammy, the pop icon flaunted her skin, wearing a gown that resembled a cross between French lingerie and medieval body armor.
Kendall Jenner At The 2017 Met Gala.
Kendall is never hesitant to show she can be a little provocative. For the 2017 Met Gala, the model donned this sparkling La Perla gown that appeared to be custom-made for her.
Penlope Cruz At The 2011 Cannes Festival.
She's just so good with stealing the show! Since the day she stepped out of an extended limo and onto her first red carpet, people have always looked forward to seeing Penelope on the red carpet. 2011 Cannes was no exception.
Bella Hadid At The 2016 Cannes Festival.
Over time, Bella has built her appearance and identity! And based on this stunning red gown with a thigh-high slit, it's no doubt that her hard efforts have been paying dividends.
Nicole Kidman At The Cannes Awards.
This photo was taken in 2014, but it proves just how Nicole put stunning clothing together to date. She's always amazing on the red carpet, and we bet you can't agree any less.
Lupita Nyong'o At The 2015 Cannes Festival.
She seems to be a newbie in Hollywood, but so far, she has embraced the new job with elegance. FYI, Lupita gained expertise in acting from the United States and in her father's native country Kenya, where she worked for years.
Naomi Watts At The 2012 Cannes Festival.
The Australia-native arrived on the red carpet of 2012 Cannes in this gorgeous nude Marchesa gown with a fishtail design. She no doubt looked the part of Hollywood royalty, especially with her diamond accessories.
Zhang Ziyi At 2014 Cannes Festival.
Zhang of China has a good sense of fashion! Her choice of this Stephane Rolland Couture gown proved it. Notably, the dress was intended to be futuristic in style, and as seen by the numerous cameras behind her, it was favorably welcomed.
Cheryl Cole At The 2012 Cannes Festival.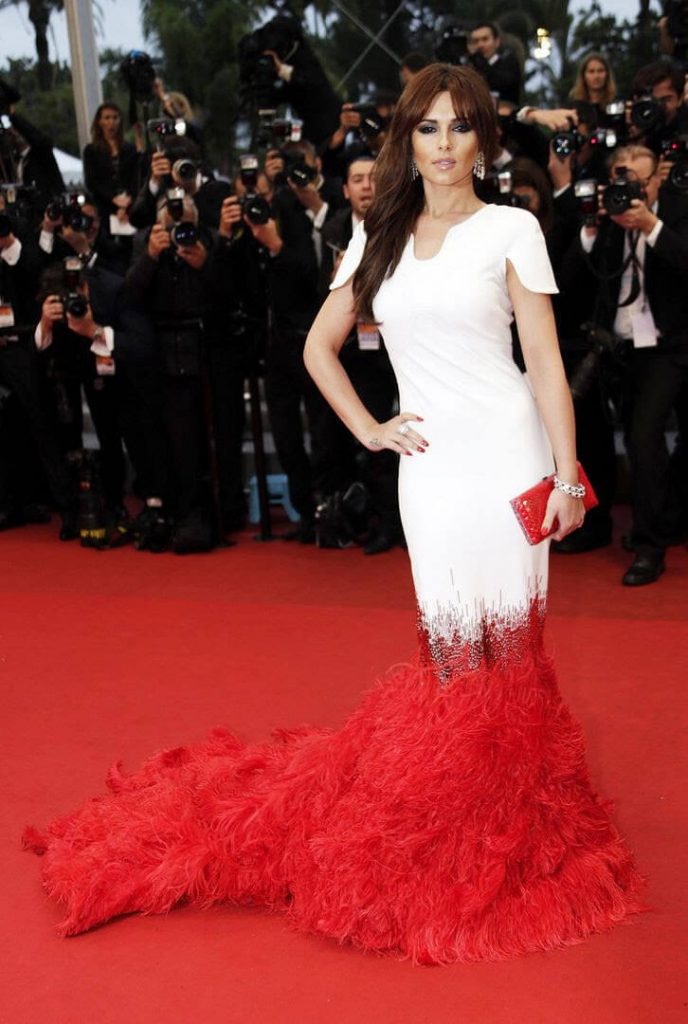 Cole arrived at the 2012 Cannes in this stunning white and scarlet gown. She has been enchanting admirers for years, but these outfits of hers cheered even more.
Michelle Williams At 2010 Cannes Festival.
Williams, known in the United States, was welcomed to the 2010 Cannes in this pink and flowing shoulder-free gown with the swagger of a peacock among a sea of hens.
Uma Thurman At The 2014 Cannes Festival.
Yellow is quite a difficult color to wear, but Uma showed she has a way of dealing with such. Even on-screen, the actress knows how best to pull off challenging jobs.
Rosie Huntington-Whiteley At The 2016 Cannes Festival.
This is one of Rosie's greatest looks! The British model's skin and blonde hair worked perfectly in contrast to her dramatic red dress and flaming lipstick.
Lea Seydoux At 2014 Cannes Festival.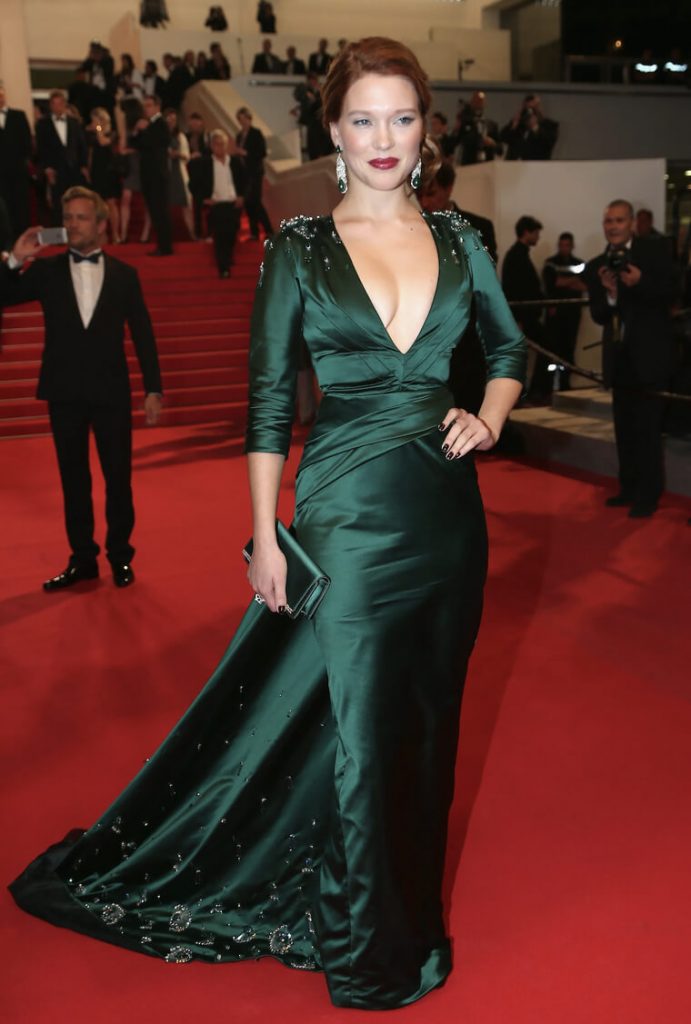 Lea, known for her combination of French and European elegance, donned this stunning emerald gown that complimented her bright red hair. She accessorized the ensemble with diamond and emerald earrings.
Cara Delevingne At 2013 Cannes Festival.
The actress arrived on the red carpet of 2013 Cannes in this stunning Burberry black dress paired with diamond earrings. Her appearance was undoubtedly gorgeous, and her piercing eyes could be seen just behind the black makeup accentuating her bright red lips.
Elizabeth Banks At 2010 Cannes Festival.
She walked the 2010 Cannes in this magnificent gown designed by Chakra Couture. The dress had a beautiful long train which reflected her status as almost Hollywood royalty.
Mindy Kaling At The 2015 Cannes Festival.
She's known for her hilarious personality, but she's never hesitant to flaunt her feminine side. Her dress at the 2015 Cannes was no doubt simple, but the thigh-high slit nicely complimented it.
Paz Vega At The 2013 Cannes Festival.
This international beauty understands how to dress for success on the red carpet. The Spain-native nailed it again with her ensemble when she walked the red carpet of the 2013 Cannes festival.
Irina Shayk At Vanity Fair Oscar.
She walked the 2015 Vanity Fair Oscar red carpet in this swagger beautiful black gown.
Miranda Kerr At 2016 Vanity Fair.
The supermodel nailed it 100%! Miranda didn't hesitate to flaunt her rock-hard abs in this red garment as she walked the carpet of 2016 Vanity Fair.
Kim Kardashian At 2014 MTV VMAs.
On the 2014 MTV VMAs red carpet, the mom-of-four ensured she demonstrated her ability to appear sexy and stylish. Kim is one celebrity that knows how to keep attention.
Lady Gaga At 2015 Grammy Awards.
Gaga always steals the show with her unique outfit when she walks the red carpet. She did the same at the 2015 Grammys in this magnificent ash-color dress.
Emily Ratajowski At 2017 Cannes.
Emily turned heads at this Cannes event when she arrived on the red carpet in this beautiful Peter Dundas lace gown.
Freida Pinto At The 2014 Cannes Festival.
The Mumbai-native wore this pink gown embellished with feathers and a plunging top for the 2014 Cannes. She no doubt made a statement with the dress paired with crimson lipstick.
Beyonce At The 2015 Met Gala.
The mom-of-three remains a Queen even without wearing a crown on her head. Beyonce's dress choice for the 2015 Met Gala is a well-thought-out one; just look at the number of cameras behind her.
Irina Shayk At Cannes Film Festival.
The Russian beauty walked the 2017 Cannes in this yellow dress barely two months after giving birth to her daughter. Irina is such a stunner and a living inspiration that you pull off the clothes you most dream of wearing.
Kate Upton At Oscar After Party.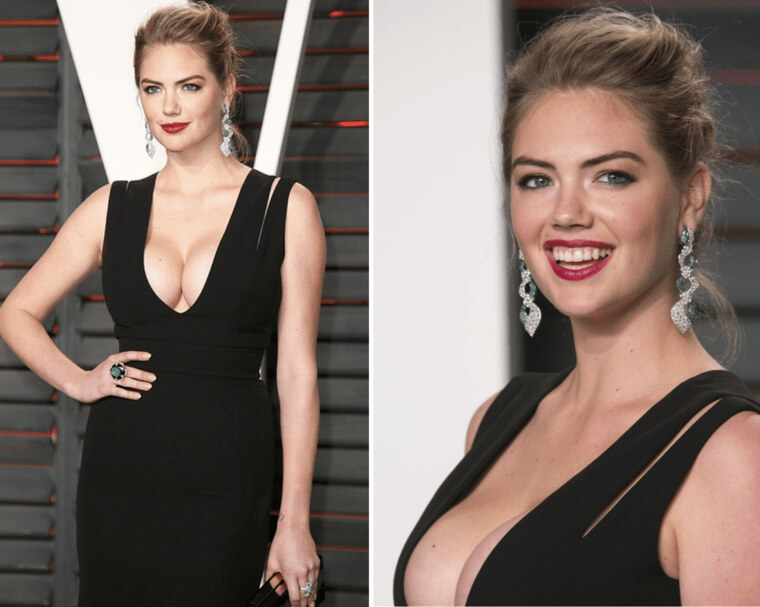 You'll agree that Kate's Victoria Beckham classic black gown paired with flashing emerald and diamond earrings as well as red lipstick was a good choice for the Vanity Fair Oscar party.
Amber Rose AT MTV Movie Awards.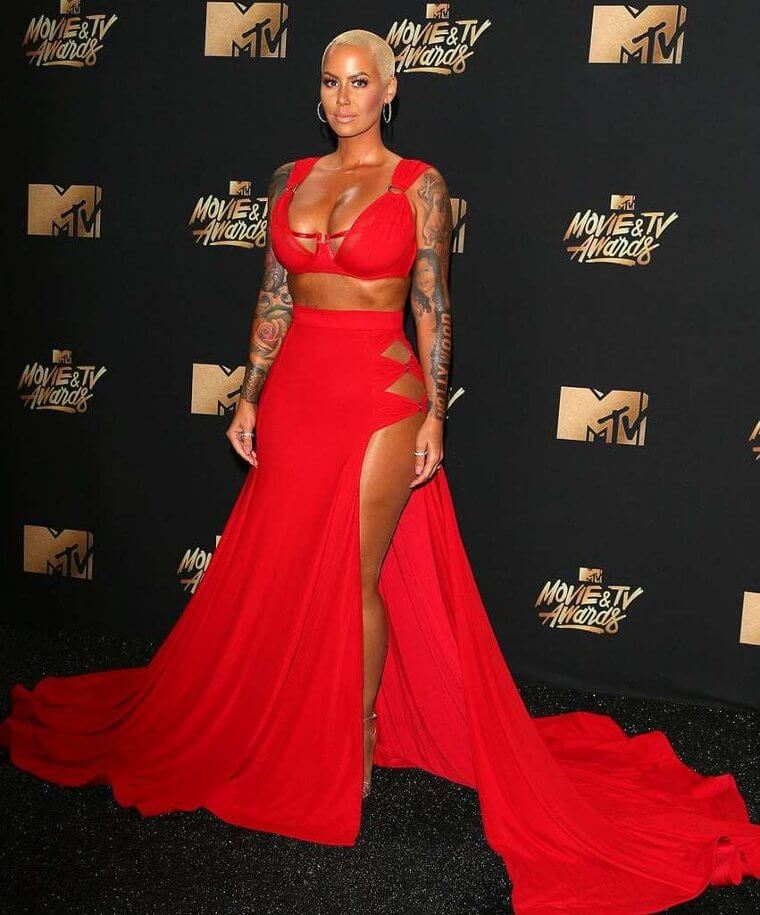 The singer's broad shoulders and tattooed arms are definitely something she's proud of! The fashion model is always confident in flaunting them, as seen by her red carpet outfit.
Gigi Hadid At The 2015 AmfaR Gala.
This supermodel walked the 2015 AmfaR Gala in this white Tom Ford gown with a plunging neckline and a thigh-high slit. Her beauty has since landed her as one of the top names in fashion; hence you can bet she dressed to impress for this occasion.
Gabrielle Union At 2017 Vanity Fair.
She's no alien to make a bold statement with fashion styles. She had walked the 2017 Vanity Fair in this blue and black dress that drew attention to her lower body. It was impossible not to take a glance at her lovely figure.
Jennifer Lopez At The Latin Music Awards.
Even though she's over 50, Jennifer looked 20 in this stunning gown she wore to the Latin Music Awards.
Ciara At The 2016 Grammy Awards.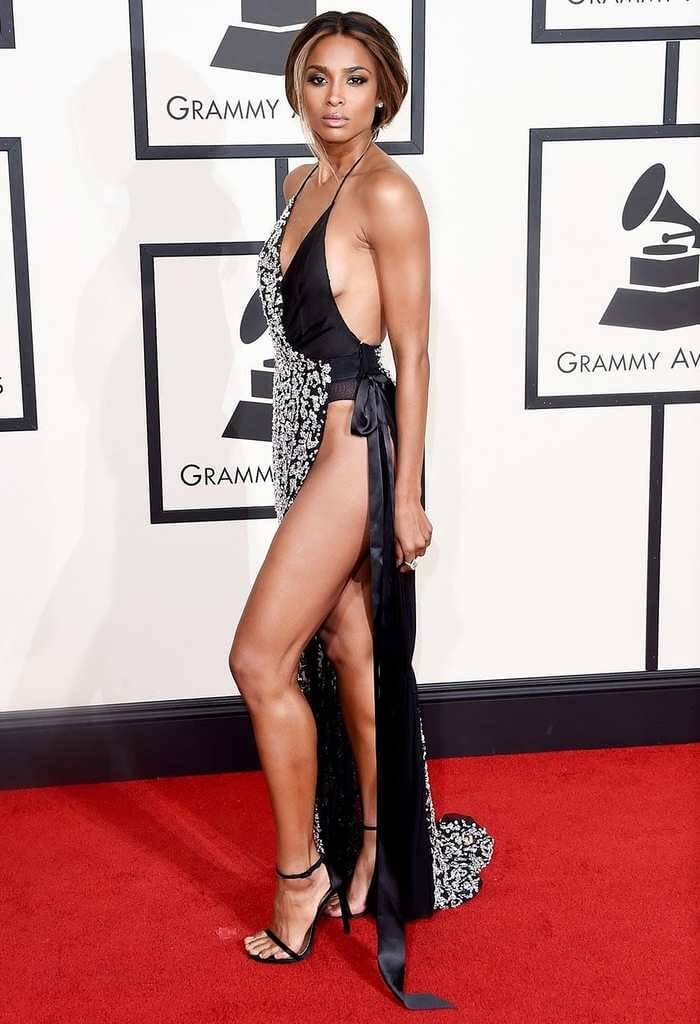 The singer walked the red carpet in this Alexandre Vauthier Haute Couture silk chiffon slip dress. It demonstrated her ability to pull off any garment with ease.
Eva Longoria At 2019 Cannes Film.
The passionate campaigner opted to walk the red carpet of the 2019 Cannes in this modest yet elegant dusty pink dress.
Jenna Dewan Tatum.
Of all red carpet red gowns, Jenna's own is quite breathtaking. She paired it with red lipstick and, for additional effect, opted for golden high heels so no one could miss her arrival.
Angelina Jolie At 2009 Cannes Festival.
Angelina, dubbed as one of the brightest gems of modern-day Hollywood, walked the red carpet of 2009 Cannes in this Atelier Versace gown that perfectly complimented her beauty.
Ashley Graham At 2016 GQ Awards.
The supermodel has curves, and she's proud of it! Her body speaks volumes, and if you will agree, it's exactly how a genuine woman should always appear.
Nicki Minaj At The 2016 Met Gala.
The rapper turned attention, looking squeezed into this Jeremy Scott gown for the 2016 Met Gala. She's undeniably proud of her curvy shape, and if you a fan of her, she enjoys flaunting it in most of her music videos.
Stella Maxwell At Vanity Fair Party.
The Victoria's Secret model, born in Brussels, Belgium, opted for a more formal look by wearing this basic black dress with a thigh-high slit for the Vanity Fair Party.