celebrity
40 Most Embarrassing Red Carpet Moments That'll Make You To Cringe
You'll also laugh out loud.
We've all had our fair share of awkward moments. But then, many probably didn't transpire with flashing cameras in our faces. This isn't the same for celebrities, as things can go hilariously wrong at unexpected places like the RED CARPET. Such happenings prove that A-listers aren't immune to regular people's problems and certainly not exempt from embarrassment.
You'll agree it's somewhat reassuring that celebrities can't always be perfect and YES, it's likely going through awkward moments makes them feel much more human and relatable. Here we aren't talking about the beautiful dresses or perhaps the brilliant talents but of course what has gone wrong on a red carpet. From outrageous behavior to dealing with clingy fans, here're some of the most cringe-worthy red carpet moments of all time. You'll definitely LOL!
Amy Schumer Face-Plants 2015.
On the red carpet, Amy Schumer hilariously face-planted in front of Kimye, and the couple went around her without batting an eye. On The Graham Norton Show, Schumer later explained the moment, saying: "I saw Kim and Kanye standing there, just owning it, just being short and important. And I think falling is the funniest thing, so I took a dive in front of them."
Stella McCartney And Rihanna's Skirt 2014.
Fashion designer Stella McCartney came this close to ripping RiRi's skirt off her body with her heel. The singer would have rocked it nonetheless because, well, she's RIHANNA.
Mayim Bialik At 2014 SAG Awards.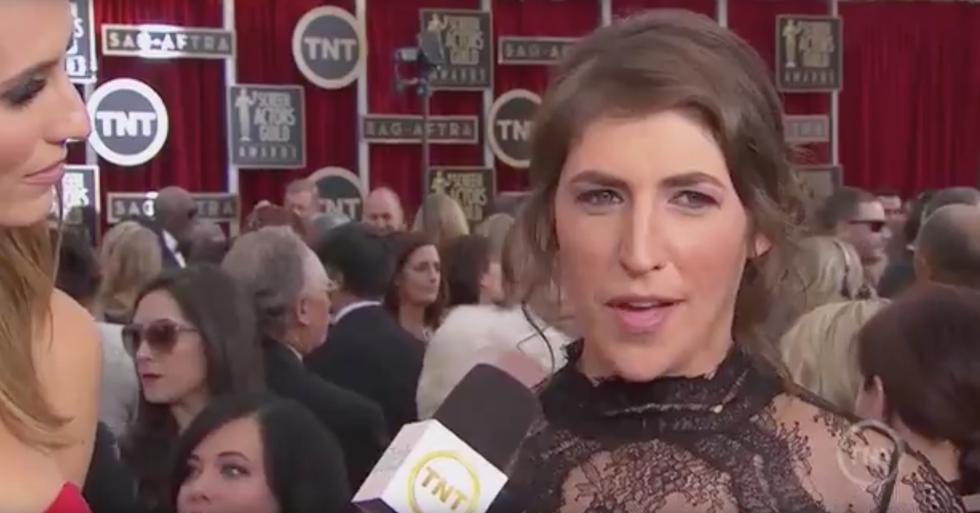 "Being on the Big Bang Theory, how many people not that you aren't a genius think you can solve calculus at the drop of a hat?" a reporter asked The Big Bang Theory actress and neuroscientist Mayim Bialik. To the disrespectful question, Bialik smartly replied: "I was trained in calculus for several years. I'm a neuroscientist—you may not have known that?"
Bjork's Swan Dress At 2001 Oscars.
This is one of the most famous bird gowns of all time. Doesn't it qualify as a category? However, Bjork bought six ostrich eggs, which are now considered accessories.
Reese Witherspoon and Felicity Jones At 2015 Oscars.
This greeting is iconic, but can you spot the person's look in the middle?
Megan Fox And Machine Gun Kelly At 2021 Billboard Music Awards.
On the red carpet, Megan Fox and Machine Gun Kelly with a DYED TONGUE made out/licked one other. It's only fair that two of the world's sexiest people are also two of the most awkward.
Kim Kardashian Flour-Bombed At 2012 Fragrance Lunch.
At Kim's 2012 fragrance launch, an animal rights activist attacked her, destroying her dress, and screamed "Lousy fur hag!" at the reality star. Which, to be honest, sounds like the title of an excellent punk song from the 1980s.
Jim Carrey At 2017 Harper's Bazaar Icons Party.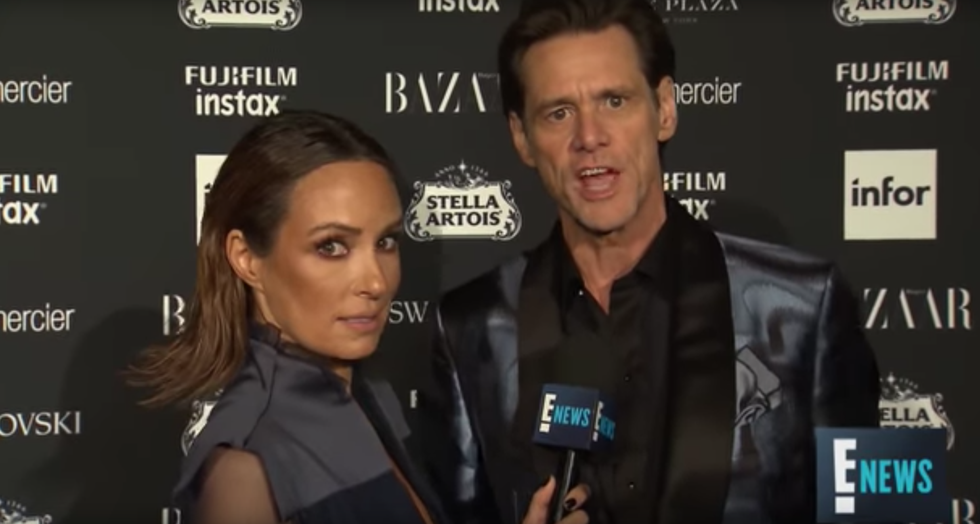 "I wanted to find the most meaningless thing that I could come to and join," Carrey said of his attendance at the party. He then explained how nothing was real, not even himself.
Kanye West's Bottle At 2009 VMAs.
Here's Kanye drinking a bottle of Hennessy only hours before launching the feud of the century with Tay at the 2009 VMAs. Yes, his explosion did make a great deal of sense.
Angelina Jolie And Her Brother At 2000 Oscars.
Angelina Jolie kissed her guest on the red carpet when she was a first-time Oscar candidate in 2000. Her guest, James Haven, was her brother, and it indeed added to the whole excitement.
Will Arnett At 2013 Emmys.
When an ET reporter asked Will how he and his preparation for the event, he responded with: "I don't really have a significant other. She doesn't exist. I'm excited; I can't wait to watch this back on YouTube all week."
Vitalii Sediuk The "Prankster" At 2014 Cannes Film Festival.
Vitalii Sediuk, the controversial "prankster" who attempted to kiss Will Smith in 2012, snuck his head inside America Ferrera's garment while on the red carpet in Cannes for How to Train Your Dragon 2. He even clutched her ankle when security tried to take him away.
Adam Levine And Behati Prinsloo's Wardrobe Fail.
At the 2015 Vanity Fair Oscar Party, Behati almost had a Janet Jackson moment, but happily, her husband was there to save the day.
Rashida Jones Responds To Tan Comment At 2015 SAG Awards.
TNT reporter Danielle Demski told Rashida Jones at the 2015 SAG Awards that she looked "like she just got off an island or something" and that she was "tan and tropical." Jones, who is multiracial, responded briefly, saying: "I mean, you know, I'm ethnic." Co-reporter JD Heyman, a white man, inexplicably chimed in, "me too."
Isaac Mizrahi Gropes Scarlett Johansson's Breast At 2016 Golden Globes.
When Scarlett revealed that her Valentino gown had built-in support, Isaac Mizrahi wanted to have a feel of it by himself, but then the moment turned out indecent, obnoxious, and weird.
Elsa Hosk's Earring At 2019 Venice Film Festival.
When the model stopped the presses to find her missing earring, she said, "Kim, there's people who are dying!" However, you just have to admire the dedication with high stilettos and an even higher skirt slit.
Jessica Chastain And Oscar Isaac's Flirting.
At the 2021 Venice Film Festival, things got heated between Jessica Chastain and Oscar Isaac. We're talking arm kisses, love stares, face caresses. However, it would've been a sweet moment if they weren't both married to other people but each other.
Selena Gomez's Blue Streaks At 2007 Teen Vogue Young Hollywood Party.
Till today, Selena knows how iconic this moment was. In 2021, the singer had made fun of the 07 moment in a TikTok and captioned the clip: "To my younger self: you're not cool bro."
Fan Cuffs Herself At Hugh Grant At 2007 Music And Lyrics Premiere.
Do you remember when a Dutch prank TV show host chained herself to Hugh Grant? Then she went on to say she didn't have the key and even made him wait for police and fire rescue in an awkward position with her. In all, it was an exciting moment to be alive in 2007.
John Travolta Kisses Scarlett Johansson At The 2015 Oscars.
As John Travolta holds her mid-section and moves in for a kiss, the actress stands entirely still and visibly uncomfortable.
Melanie Griffith And Dakota Johnson At 2015 Oscars.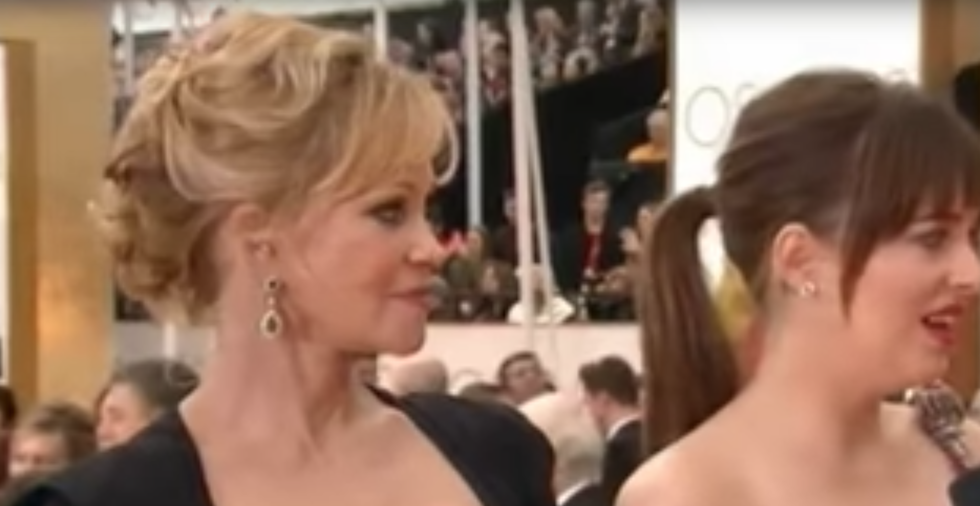 Melanie Griffith had seen the film Fifty Shades of Grey, right? She hasn't and stated several times she didn't want to. "Alright! You don't have to see it!" Johnson eventually snapped back.
Jerry Seinfeld Rejects Kesha's Hug.
At the David Lynch Foundation's "A Night of Laughter and Song," Kesha approached Jerry Seinfeld and requested a hug, but he declined, saying "no thanks." And when reporter Tommy McFly Jerry who Kesha was, he replied, "Okay, well, I wish her the best."
Scarlett Johansson Calls Out Ryan Seacrest At 2017 Oscars.
Seacrest had asked Johansson: "Do you actually wear the shoes that you are wearing tonight for the rehearsal? She replied: "What a ridiculous question."
Pharrell And The Hidden Fences Question At 2017 Oscars.
Jenna Bush Hager, who interviewed Pharrell, asked him about a nonexistent film called "Hidden Fences." It turned out that Hidden Figures and Fences – both movies with black casts, were blended into the non-title. The following day, Bush Hager eventually apologized, and Pharrell and Hidden Figures actresses Janelle Monae and Octavia Spencer accepted the apology via Twitter.
Bradley Cooper's Clingy Fan At 2014 SAG Awards.
At the 2014 SAG Awards, Bradley appeared to laugh off a fan's ambush until security yanked the man from his legs. The fan turned out to be Vitalii Sediuk, a well-known Ukrainian prankster.
Sacha Baron Dumps Ashes On Ryan Seacrest At 2012 Oscars.
Sacha Baron Cohen arrived on the red carpet dressed as his character from The Dictator, with female bodyguards and an urn containing "Kim Jong-remains." Things got extremely strange when he "accidentally" threw the ashes all over Ryan Seacrest's Burberry tux.
Issa Rae At 2018 Golden Globes.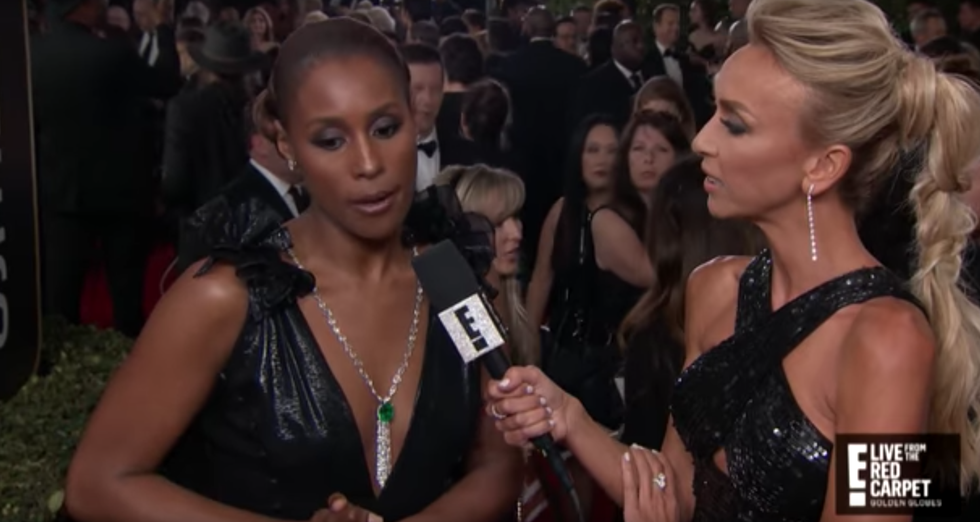 It appeared that Giuliana Runcic wasn't aware that Issa Rae already had a memoir, and it's called The Misadventures of an Awkward Black Girl, published in 2015.
Amy Schumer Talks Tampons At 2016 Emmys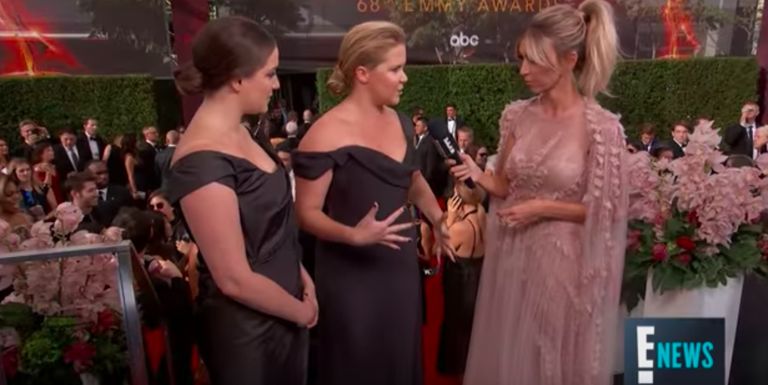 "Who are you wearing? Was the question directed at Amy on the red carpet of the 2016 Emmys. Hilariously, she gave an unexpected reply with a flare of realness: "An OB Tampon!"
Will Smith Slaps Prankster At 2012 Men In Black 3 Premiere.
Vitalii Sediuk, a controversial Ukrainian "prankster," hugged Will Smith and then tried to kiss him on the red carpet. "What the heck is your problem, buddy?" the actor said and slapped Vitalii in return.
Giuliana Rancic To Emilia Clarke "You Can You" At 2016 Emmys.
Giuliana Rancic told Emilia Clarke, with whom she'd been speaking with, to leave when she spotted Heidi Klum coming over for an interview. But because Emilia stayed put, it turned out the Game of Thrones star apparently didn't hear Rancic, and it prompted the repetition of "You Can Go." Even though the co-host was courteous, the words hung awkwardly in the air.
Lil Uzi Vert's Strained Convo With Giuliana Rancic.
At the 2018 Grammys, Giuliana Rancic and Lil Uzi Vert were not on the same page, at least not in terms of their enthusiasm levels. This is how the conversation went: Giuliana: How are you feeling? Lil Uzi Vert: I'm feeling normal.
Jason Segel Gets Swept Up At 2012 Oscars.
Someone swooped in to clean up after Sacha Baron Cohen's stunt, utterly oblivious to the fact that they were in the presence of and blocking) Marshall Eriksen!!
Debra Messing Drags E! At 2018 Golden Globes.
"I was so shocked to hear that E! doesn't believe in paying their female co-hosts the same as their male co-hosts," Messing told E!'s Giuliana Rancic while referring to former E! co-host Catt Sadler.
Jason Derulo's Stair Conspiracy At 2011 Cannes Film Festival.
Expect your mind to be blown. Do you remember the meme of Jasoooon Deruloooo sliding down the Met Gala steps? THAT WASN'T HIM AT ALL. And what about the image? It wasn't even at the Met Gala when this photo was shot. In 2011, an anonymous guy attempted to sabotage the Cannes Film Festival.
Terrence Howard's Philosophy Class At 2019 Emmys.
Terrence Howard's strange interview with KTLA 5 at the 2019 Emmy, during which he uttered the term Pythagoras had left everyone perplexed.
Zac Efron At The Lorax Premiere 2012.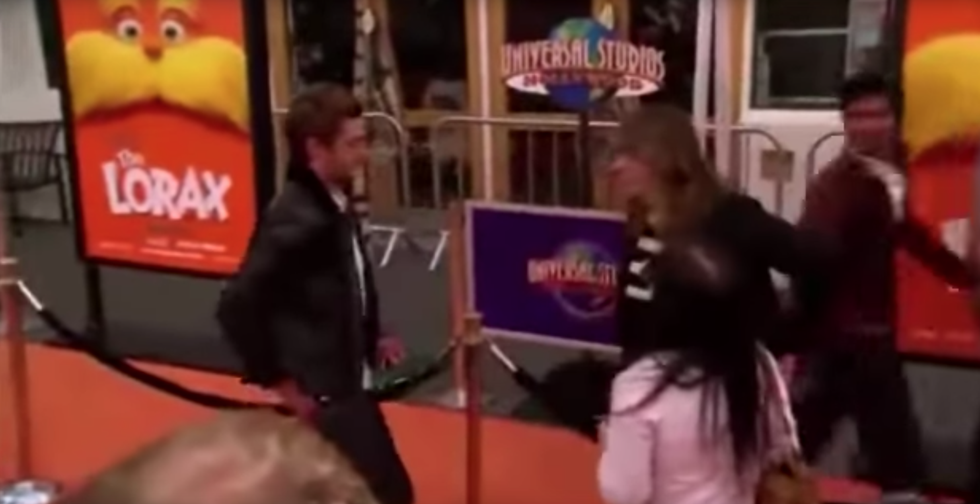 Dropping a condom in public is embarrassing in any situation, but it's extra awkward when it happens at a children's movie premiere. So when a condom flew out of Efron's pocket during the 2012 premiere of The Lorax, he learned the hard way.
Taylor Swifts Response At The 2015 Grammys.
"You're going to walk with more than a trophy tonight, I think, lots of men," ET's Nancy O'Dell said to Taylor Swift when interviewing her on the 2015 Grammys red carpet. She then replied: "I'm not going to walk away with any men tonight."
Nicole Kidman's Dress At The 1997 Oscars.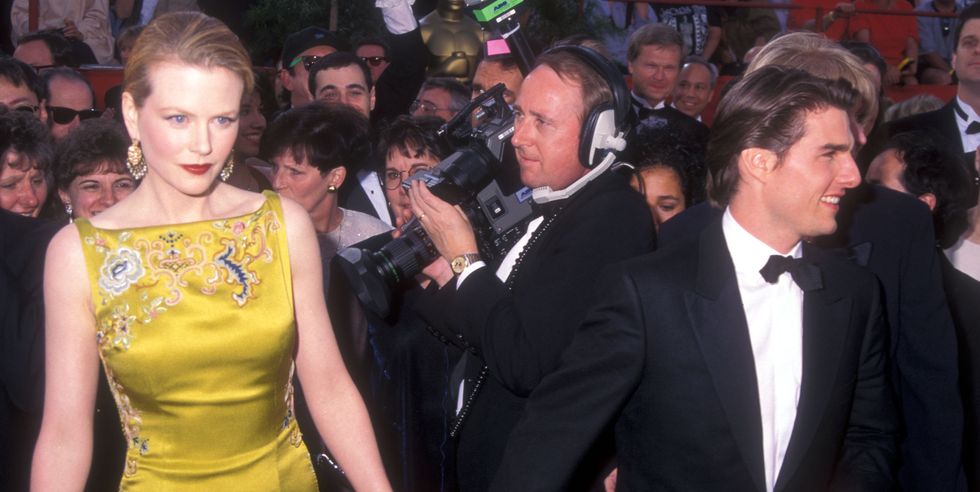 Joan Rivers mocked Nicole Kidman over the color of her gown at the 1997 Academy Awards. "Nicole! Come on, tell me why you wore such an ugly color "she stated. The actress moved on past, either not hearing Rivers or preferring to converse with individuals who wouldn't criticize her.
Jennifer Lawrence Trips At 2014 Oscars.
Jennifer Lawrence made one of her many legendary blunders on the red carpet of the 2014 Academy Awards when she was nominated for Best Supporting Actress for American Hustle. She had fallen on her way to claiming her Best Actress Oscar for Silver Linings Playbook the year before.
Gary Busey Kisses Jennifer Garner's Neck At 2008 Oscars.
While Ryan Seacrest was interviewing Laura Linney and Jennifer Garner for E!, Gary Busey continually interrupted him, but the situation became particularly awkward when Seacrest questioned Busey, "Do you know Jennifer Garner?" and he answered by kissing Garner's neck.