Beauty
51 Best And Daring Outfits Celebrities Wore To The 2022 Cannes Film Festival
Damn beautiful!
The 2022 Cannes Film Festival schedule had several films people looked forward to, and on the official jury were Noomi Rapace, Rebecca Hall, Jasmine Trinca, and Deepika Padukone. The event was held in France, and its red carpet was undeniably one of the glitziest, competing with the Met Gala and the Oscars. Celebrities journeyed over from Hollywood and displayed the event's signature, rocking their best suits and gowns.
In 2020, the festival had been canceled due to the pandemic, but it did return in full swing in 2021, and stars were once again prepared to channel some extremely glamorous energy at this year's 75th annual Cannes Film Festival, which was held between May 17th and May 28th. Notably, see-through outfits proved to be popular, including vibrant colors and ball gowns. We've compiled a few for your glance, have a look, and enjoy!
Rose Bertram Attends The Screening Of Armageddon Time In This Netted Dress During The 75th Annual Cannes Film Festival At Palais Des Festivals.
Eva Longoria Flaunts Her Trim Figure In This Green Cut-Out Dress From Stella Mccartney. She Completed The Look With Green Stiletto Heels And Dark Sunglasses.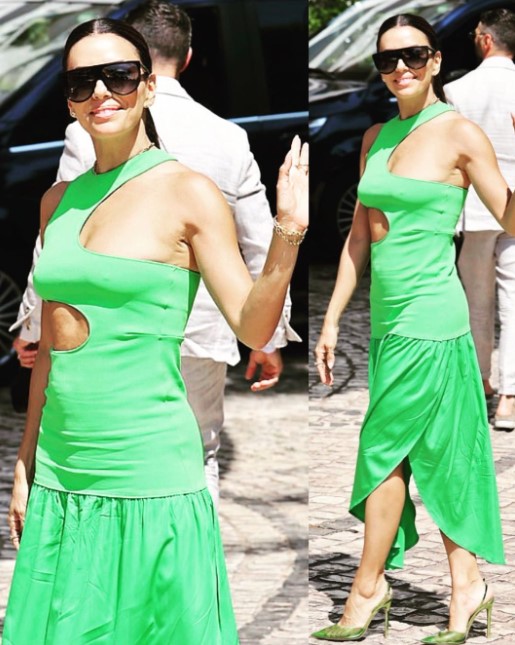 H.ER. Looked All Glam Up In Carolina Herrera, Paired With Chopard Jewelry For The 2022 Academy Award.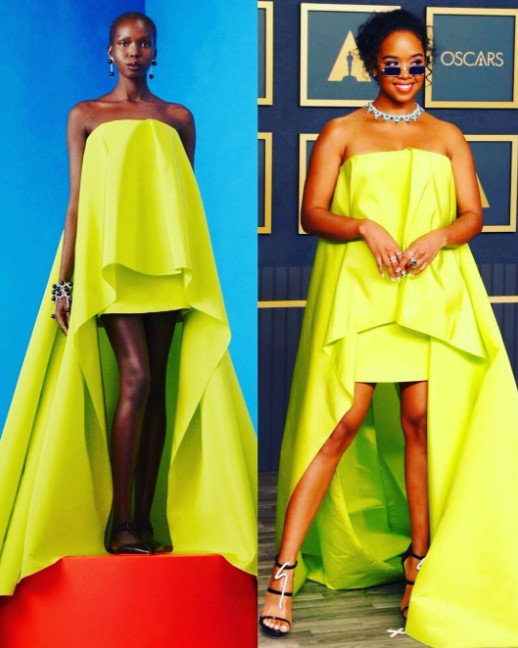 Bella Hadid Arrived At The Tre Piani Screening Sporting This Long-Sleeve Black Dress With A Necklace So Low. It Was Paired With Ruby Red Earrings.
Berenice Bejo Attended The Final Cut Photocall In This PRE-FALL 2022 Long See-Through, Green Beaded Shirt And Green Sequin Shorts, Paired With Gold Sandals.
Simone Missick Wore The Same Dress As H.E.R. From The 2022 PF Collection For The Emmy Awards.
Rebecca Hall Gave A Showstopping Arrival In This Burberry Outfit, Paired With Monbouquette Earrings.
Mădălina Ghenea Is An Appearance Of Great Days. She Had Walked The Red Carpet At Cannes In This Gorgeous Emerald Dress, Which Highlights Her Tan.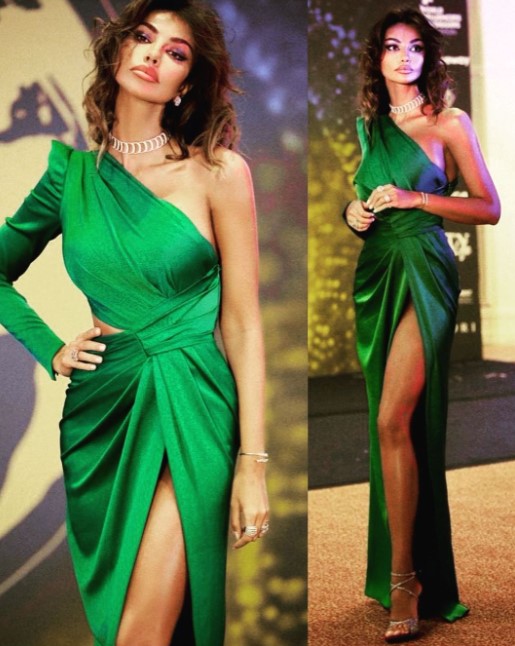 Kendall Jenner In This Black Bustier Crafted From Black Compact Viscose Jersey With Handmade Trompe L'oeil Breats Made Form Quilted Lambskin Dipped In Gold.
Doja Cat Pulled All The Stops In This Structured Black Gown From Schiaparelli As She Attended The 2022 Billboard Music Awards.
Camilla Mendes Stunned In This #Versace 2022 FW RTW Corset Dress For The 'Do Revenge' LA Premiere.
Didi Stone Stunned In A Roberto Cavalli Gown, Which Had A Mermaid-Style Skirt, Metallic Straps, And Gold Flowers Around The Top.
Adriana Lima In Nicolas Jebran Dress. It Had A Jeweled Neckline And Straps, Flowing Cape Sleeves, And Cutouts From Her Chest Almost To Her Thighs.
Shakira In Jessica Rabbit-Esque Dress – A Black, Strapless With A Thigh-High Slit In Its Skirt.
Tallia Storm In A Yanina Couture Gown. It Had A Textured, Cropped Shawl With Puffed Sleeves.
Emilia Schüle's Two-Piece Look Came From Gucci's Spring/Summer 2020. But She Altered The Runway Look As She Had Shorter Gloves And A Simple Red Lip.
Marina Ruy Barbos In A Pink Valentino Gown Made From Sheer Tulle, With Ruffled Tiers.
Elisa Maino Dress By Alberta Ferretti Was Made Up Of A Simple Black Skirt With A Slit Up The Center. It Also Had Cutouts Along With The Torso And Shoulders.
Celia Kritharioti Designed Rochelle Humes Sparking Black Dress, Which Had A Shaped Cutout Over The Right Side.
Jwana Karim In A Sheer Gown With Glittering Pearls. The Actress Paired The Dress With White Sunglasses And Blush-Colored Shoes.
Meriem Uzerli In A Baby-Blue YANINA Couture Gown With Wing-Like Sleeves And A Deep Neckline.
Liza Koshy's Metallic, Sleeveless Dress Was Designed By Georges Hobeika. It Had A Sharp Neckline And Semi-Sheer Skirt Decorated With Sequins.
Kylie Minogue's Sleeveless Versace Design Was Partially See-Through, With A Corset Top That Showed Her Bra.
Sharon Stone's Dolce & Gabbana Dress Had Thin Straps And A Jeweled Sweetheart Neckline.
Deepika Padukone's Louis Vuitton Dress Had Wing-Like Sleeves, A Form-Fitting Bodice, And A Floor-Length Skirt.
Winnie Harlow's Off-White Dress Was Tan, While The Full, Pleated Skirt Was A Lighter, Dusty-White Shade.
Léna Mahfouf Arrived At The Event Looking Like A Princess In This Backless, Black-And-White Dress.
Letitia Wright In A Dress By Fendi From Its Spring/Summer 2022 Couture Collection. It Featured A Turtleneck, Long Sleeves, And A Long Train.
Aishwarya Rai Bachchan Dress Was By Dolce & Gabbana. It Featured A Full Skirt Train And Floral Details That Began From Her Right Shoulder Through The Skirt.
Nadine Leopold In Zuhair Murad Dress Which Had A Bra-Style Top, Cutouts Across The Bodice, And Two Slits.
Italian Actress Beatrice Vendramin In Pomellato Design, Which Had A Sparkling Bodice With A V Neckline. The Dress Also Had Crisscross Straps Across Its Open Back.
Jourdan Dunn's Long-Sleeved Gown Had A Puffy Skirt And Train That Showed Off The Bottom Hem Of The Minidress. The Dress Was From Ashi Studio Spring/Summer 2022 Couture.
Naomi Campbell's Valentino Ball Gown Had A Full Skirt And Two Thick Arm Straps.
Anne Hathaway In A Giorgio Armani Two-Piece, Which Had A Thin Bralette-Style Top.
Nargis Fakhri's Nedo Gown Also Had Silver Sequins Placed Across It From Top To Bottom.
Soo Joo Park In A Look From Loewe, Which Included A Balloon-Looking Bra In A Bright Blue Color.
Alessandra Ambrosio Attended The "Armageddon Time" Screening In This Ball Gown And A See-Through Mesh Bodice Decorated With Chunks Of Sparkling Fabric.
Julia Roberts In A One-Piece Suit. She Paired The Ensemble With Simple Sandal Heels, A Loose Wave Hairstyle, And A Necklace.
Isabelle Huppert's Balenciaga Dress Had Long Sleeves And A Wrap Skirt With A Tall Slit.
Jasmine Tookes' Zuhair Murad Outfit Included A Long-Sleeved Crop Top And A Highwaisted Wrap Skirt, Both Of Which Were Designed With Beads And Rhinestones.
Rose Bertram's Hamda Al Fahim Gown Had Off-The-Shoulder Sleeves And A Corset Bodice. The Skirt Had A Short Train And A Thigh-High Slit.
Elsa Hosk's Valentino Dress Was Strapless And Had A Deep Neckline, Including A Full Skirt And Train.
Pamela Reif Wore A Jeweled, Off-The-Shoulder Dress With A Bow-Shaped Neckline And High-Low Skirt. She Also Donned Sparkling Pumps And Diamond Earrings.
Gabrielle Caunesil Pozzoli Dress Was Designed By Nicolas Jebran. It Had A Thin Bedazzled Straps And A See-Through Skirt.
Diane Kruger's Oscar De La Renta Backless Gown Featured A High Neckline & A Skirt That Looked Stuffed.
Diipa BüLler-Khosla Walked The Red Carpet In This Orange, See-Through Gown With A Plunging Neckline.
Andie Macdowell In A Brown-And-Tan Christian Dior Dress, With A Striped Pattern And V-Shaped Neckline And Helen Mirren In A Long-Sleeved Gown Decorated With Silver Sequins And Metallic Fringe.
Kristen Stewart Went All Black For The Screening Of The Innocent. She Paired The Pants And Button-Up, Strapless Top With Black Peep-Toe Heels.
Gianni Versace Designed Bella Hadid Strapless Black Dress. The Vintage Dress Was Paired With Simple Earrings And An Updo.
Emily Ratajkowski In Miu Miu Dress Which Had A Glittering Flower Pattern, Paired With Platform Sandals And A Belt Wrapped Around The Waist.
Adriana Lima's In A Balmain Dress Which Had Shoulder Pads And A Slit Across Its Skirt.