celebrity
31 Most Stunning Outfits Blake Lively Has Ever Worn
Always chic!
Blake Lively is herself a CLASS! And when it comes to fashion, she has since become one of the most emulated women in the world. Her styles over the years have been crowd-pleasing, especially as she knows how best to use clothing to compliment her assets. If she's stepping out with a friend or going about her activities, Lively no doubt owns the street-style game as well as red carpets.
The mom-of-three knows what works for her and runs with it effectively, carrying them over into her wardrobe. And as seen, Lively is a lover of plunging V-neck or thigh-baring slits, yet her fashions are never merely about being provocative. Without further ado, we've compiled her all-time greatest outfits that have undoubtedly ensured all eyes are on HER. Have a look and enjoy!
The MET Gala 2022
The Gossip Girl star left everyone surprised when she revealed her copper and blush gown was hiding a secret. And just as her skirt was untied to show a massive teal train, it turned out to be a nod to the Statue of Liberty's current color due to oxidation.
The Gem Awards.
Lively perfectly served the trend of bodycon & Louboutins as she attended the Gem Awards, wearing this cut-out number.
The 2021 Holiday Season.
Lively, the wife of actor Ryan Reynolds, had opted for a shimmery red embellished mini dress and a pair of matching red satin Manolos during the 2021 holiday season.
The Premiere Of Free Guy.
In August 2021, Lively stood out on the red carpet moment when she wore this pink Prabal Gurung gown covered in shimmering sequins to the premiere of Free Guy.
Lively In Max Mara Teddy Coat.
The actress draped in a cobalt Max Mara teddy coat over a matching printed dress, complimented with some platform Louboutins.
The Rhythm Section Premiere In NYC.
Lively turned heads when she hit the red carpet of the Rhythm Section Premiere in NYC. Her velvet off-the-shoulder Dolce & Gabbana gown was teamed with black leather opera gloves, a dazzling necklace, and Louboutins boots.
Lively In Monse Look.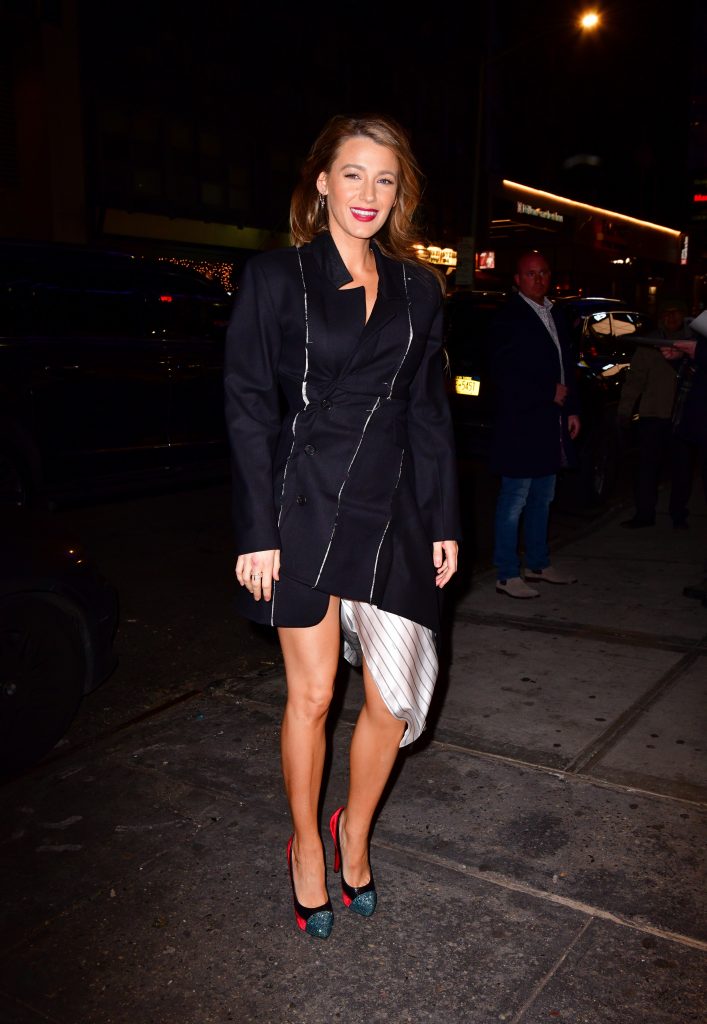 On Instagram, the actress poked fun at this Monse look, paired with colorful Christian Louboutins pumps. She wrote in the caption: "Cinderella post stepsisters tearing up her gown because they hate her chic."
The Christian Dior Fashion Show.
Lively attended the fashion show in this masterpiece of a dress, paired with spiky clear Louboutin pumps.
The 'A Simple Favor Premiere In Paris.
Lively sported this blue embroidered suit with a velvet top paired with strappy black sandals for the premiere of her hit movie A Simple Favor in Paris.
The UK Premiere Of A Simple Favor.
Lively rocked this pale pink look with a silver tie and wide-leg pants for the UK Premiere of A Simple Favor. She paired it with a silver tie and wide-leg pants along with Louboutins.
An Appearance On Fallon.
Instead of heels, Lively donned a velvet three-piece Dolce & Gabbana suit for an appearance on Fallon, paired with matching oxfords.
Lively In Another Chic Monse.
For another Monse moment, the mom-of-three paired this jersey-inspired crop top with trousers, matching Louboutins, and a vibrant red coat.
Lively In Jonathan Simkhai Dress.
In 2017, Lively paired this Jonathan Simkhai dress with a pair of loud Christian Louboutin boots.
The Good Morning America Appearance.
Lively made an appearance on Good Morning America in New York City in this Brandon Maxwell look.
Lively In Ralph Lauren Suit.
The actress no doubt looked dazzling in this Ralph Lauren suit, featuring a double-breasted blazer paired with Valentino boots.
The Good Morning America 2020.
Lively turned heads when she stopped by Good Morning America in January 2020 in this mustard yellow Fendi outfit, complete with shorts and a trench coat.
The Casual Occasion.
The Age of Adaline actress sported this white blouse with a long black cardigan over top and skinny reformation jeans for a more casual occasion. She paired the outfit with Gucci combat boots.
The Adam Project Premiere.
Her outfit at the premiere of the Adam Project proves she knows how best to handle color.
Another Casual Look.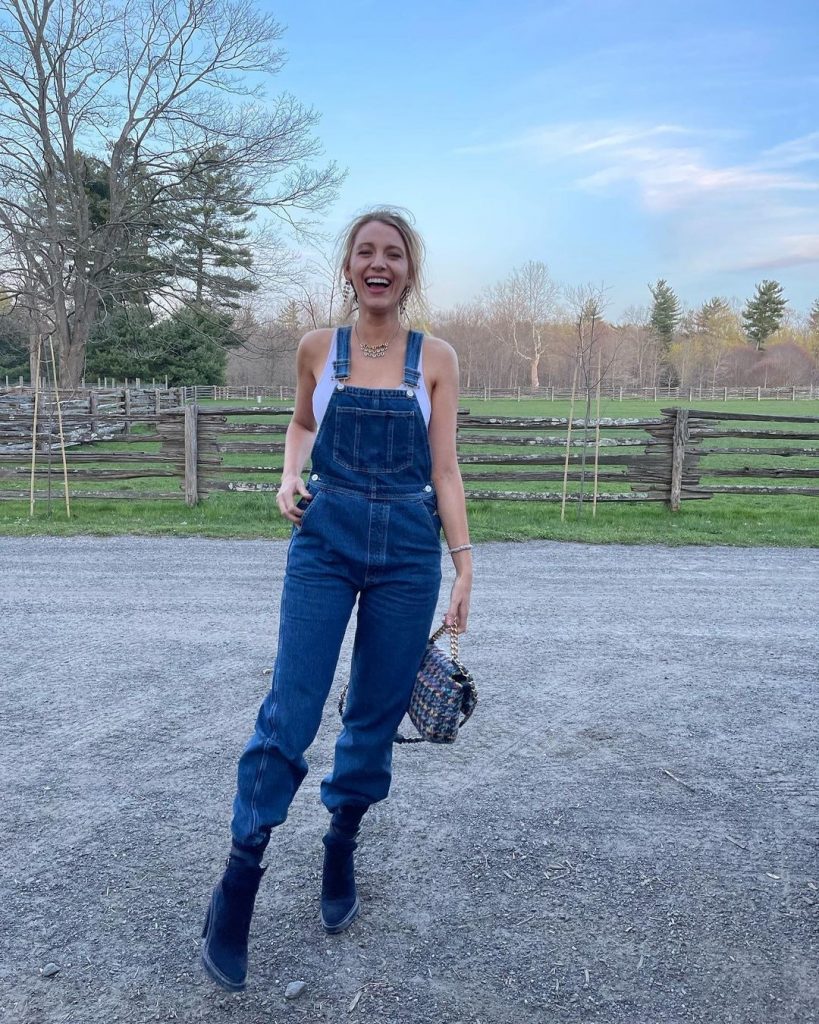 In a post on Instagram, Lively flaunted off a high-low look paired with dark denim overalls and navy Hermes booties. The actress paired the stunning look with colorful tweed Chanel bag.
Lively In A Bright Orange Ensemble.
Bright orange is among one of the most popular colors of the moment, and here's Lively rocking it effortlessly.
Versace's Pre-Fall Fashion Show 2018.
Lively arrived at the event in this vintage silver dress paired with covered heels.
The NYC Premiere Of A Simple Favor.
The actress opted for this Givenchy couture look, completed with a sparkling top and matching Louboutin booties with lace details for the premiere of A Simple Favor in New York City.
Outing In New York City.
Lively wore these tried and true Valentino Rockstud boots with a blue printed suit for an outing in New York City.
The All I See Is You Premiere.
Lively wowed crowds when she arrived at the premiere in this silvery metallic Chanel number from the fashion brand's 2007 couture collection.
Paris Fashion Week.
Lively attended one of the Paris Fashion Week in this gray pinstripe Chanel suit and feminine Louboutin heels.
The Rhythm Section Premiere After Party.
Lively opted for a black button-down floral print dress paired with boots and gloves for the event.
Another Casual Outing.
Boots are no doubt a priority in Lively's wardrobe. Yet again, she had been spotted wearing them with glamorous trenches and matching leather gloves – all by Valentino.
Michael Kor's NYFW Show 2020.
Lively made a fashionable appearance in this classic white shirt paired with a plaid vest for Michael Kor's show. The outfit, which included sleek wide-leg pants, was designed with a polka dot ascot.
Gigi Hadid's Birthday Party.
The actress styled a magenta bodycon dress with vibrant red Loubs and a matching clutch for one of Gigi Hadid's birthday parties.
The Detective Pikachu Premiere 2019.
Lively attended the premiere alongside her husband Reynolds, wearing this yellow sequin slip gown and strappy sandals.
Outing In The Big Apple 2018.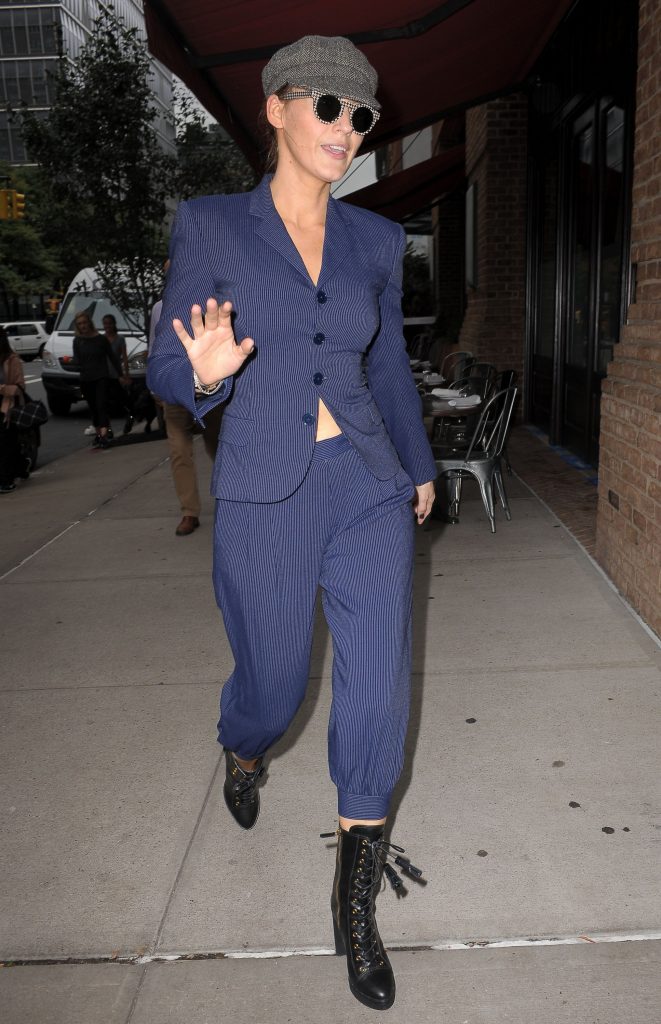 For an outing in the Big Apple in September 2018, Lively sported this navy suit, black leather Tod's boots, a newsboy cap, and the Ralph Lauren frames.