Beauty
30 Of The Most Daring Outfits Angelina Jolie Has Ever Worn
Always evolving, always on-trend.
Angelina Jolie forever remains a Hollywood Icon, and indeed, her array of awards as both an actress and director can never be forgotten. Since the 1990s, the 'Eternals' actress has captivated the world with her unique fashion style. From her days of rocking Gothic ensembles to the top-notch choices of today's trends, Jolie has left her audience, including YOU, breathless on more than one occasion.
Over time, Versace appeared to be Jolie's luxury brand of choice. Her dress with a hip-high split hasn't only drawn memes but has since been dubbed one of the best Oscars looks of all time. People have been turning heads and often marvel at how stunning Jolie looks when she walks the red carpet. We also want you to experience such, and doing this, we've put together her styles which are always on-trend. Have a look and enjoy.
Premiere Of The Tomb Raider Sequel (2003).
The color black is one color that Jolie returns to repeatedly. She wore this almost entirely backless black gown to the premiere of the Tomb Raider sequel in July 2003.
The Academy Awards (2004).
This has been cited as one of the best Oscars looks of all time, and it turned out the Marc Bouwer dress even has its own Wikipedia page. Jolie had channeled an old Hollywood glam and Marilyn Monroe in the above low-cut white satin gown. The dress really drapes on her curves and shows off her assets in all the right ways.
Tomb Raider: Cradle of Life Premiere (2003).
For "Tomb Raider: Cradle of Life" premiere in August of the same year, she opted for a black halter dress with a plunging neckline and slit. She didn't pair it with any accessories, letting the dress speak for itself.
Premiere Of Mr. And Mrs. Smith (2005).
Jolie gorgeously rocked this all-leather gown for the premiere of Mr. And Mrs. Smith in June 2005. Yet again, she opted for a dress with a thigh-high slit and low neckline.
Premiere Of Salt (2010).
This slit of Jolie's dress to this premiere was undeniably daring! The black gown paired with open-toe heels had featured a high neck and was almost entirely backless.
Premiere Of The Tourist (2011).
Jolie flawlessly combined two warring aesthetics with this outfit that featured a delicate glittering bodice and a gothic black velvet skirt and matching shawl. Atelier Versace designed this look.
The 84th Annual Academy Awards (2012).
Jolie wore her most famous outfit of all time – this structured black gown with a daring high slit to the 2012 Oscars. This Versace dress is so iconic that it sparked up dozens of memes, a Wikipedia entry, and is now considered one of the best Oscars looks of all time.
Premiere Of Unbroken (2014).
Jolie looked stunned in this white lace dress for the premiere of Unbroken, which was held in November 2014. Gucci had designed the complicated outfit.
Golden Globes (2018).
This outfit resembled pajamas due to its feathery sleeves and sheer top. But then, Jolie had turned heads with the Atelier Versace gown for the Golden Globes awards in January 2018.
Premiere Of The Maleficent 2 (2019).
Jolie pulled the 1920s flapper glam for the premiere of the Maleficent 2 in 2019. Ditching her favorite color, 'Black,' the actress opted for a shimmering gown layered with fringe. Ralph and Russo designed the look.
European Premiere Of Maleficent: Mistress Of Evil (2019).
For one of the last Maleficent premieres, Jolie rocked this stunning white gown with gold details and a flowing cape, which had Swarovski crystal spiders embroidered throughout. The bodice metallic golden details almost appeared like a superhero suit, and yet again, it had been designed by Ralph and Russo.
Premiere Of The Eternals (2021).
Valentino Haute Couture designed this chick look. Jolie went all smiling when she did a spin in this classic menswear embellished tuxedo ball gown at one of the Eternals premieres.
Premiere of The Breadwinner (2017).
This Givenchy ensemble might have inspired Kristen Stewart's red carpet PJs looks, but then, Jolie had looked like she stepped out in most expensive pajamas for the premiere of the Breadwinner in September 2017.
The Golden Globes (2012).
Jolie paired her Atelier Versace gown with a matching red clutch by Christian Louboutin. She arrived at the 69th Golden Globes awards wearing a rare pop of color – a cream-colored dress with red accents.
Premiere Of Lara Croft: Tomb Raider (2001).
For the premiere of Tomb Raider, Jolie wore low-rise leather pants that flaunted her tattoos, which said "Quod Me Nutrit Me Destruit." In English, it means, "What nourishes me, destroys me."
The Emmys (1998).
Jolie wore this beige dress with sheer paneling and an exposed studded bra to the Emmys in September 1998. The same year, she was a double nominee and was nominated for her work in "Gia" and the miniseries "George Wallace."
The Maleficent (2014).
Jolie wore this beautiful ball gown made entirely of rubberized silk to the premiere of Maleficent in 2014. The dress was, of course, designed by her favorite Atelier Versace.
Maleficent: Mistress Of Evil Premiere (2019).
Jolie's liquid black dress had a scorpion brooch, and it turned out the outfit by Atelier Versace was wholly made of chain mail.
Eternals Premiere (October 2021).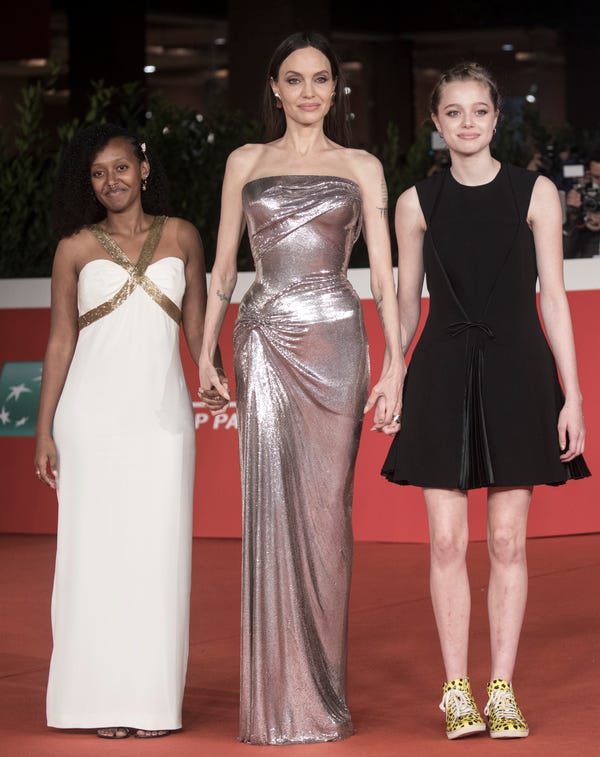 The actress shined bright in this strapless metallic gown for the Eternals premiere held in October 2021. Jolie was accompanied by her two daughters, Zahara and Shiloh.
56th Annual Golden Globe Awards (1999).
Jolie had said she would jump in the pool if she won a Globe. So just when she secured the win for Gia, she did precisely that with her Access Hollywood producer. However, she had worn this skintight silver gown encrusted with jewels to receive the award.
Premiere Of Playing God (1997).
This is what Trinity looks like, and what Jolie needed was to pair her ensemble with tiny sunglasses. The actress attended the premiere of the playing God wearing this leather-trench coat dress. She's pictured with David Duchovny.
Premiere Of Beyond Borders (2003).
Jolie wore this silk sage green dress with a higher slit for the premiere of Beyond Borders. You'll agree that her strappy green heels matched perfectly.
Premiere Of The Good Shepherd (2006).
This sparking black backless dress featured a sheer hem and satin bow. Jolie had confidently rocked this to the premiere of the Good Shepherd in November 2006.
The 23rd Producers Guild Awards (2012).
Jolie and her then-husband Brad Pitt attended the 23rd Producers Guild Awards in 2012 wearing this black ensemble designed by Michael Kors. Angelina's dress was lace-paneled and had sleeves.
Maleficent Sequel (2019).
Givenchy designed this flowy ensemble. Jolie attended the French premiere of the Maleficent sequel channeling this lilac butterfly outfit.
"We Are The Future" All-Star Concert (2004).
Jolie, pictured with Legendary producer Quincy Jones had her sparkly skirt slit to her hip for the humanitarian concert held in May 2004.
Cannes Film Festival (2009).
Jolie walked the red carpet with then-husband Brad Pitt in this gauzy beige dress with a hip-high slit. Versace had designed the chiffon ensemble worn to the Cannes Film Festival.
Cannes Film Festival (2011).
It appears a ballgown couldn't stop Jolie from flaunting off her long beautiful legs. According to The Hollywood Reporter, this chocolate-colored dress designed by Atelier Versace is among one of the best Cannes looks of all time.
Premiere Of In The Land Of Blood And Honey (2012).
Ralph and Russo designed this one-shouldered gown. Jolie's look to this premiere had also featured an enormous flower embellishment on the shoulder.
Premiere Of Shark Tale (2004).
Jolie leaned into her animal instincts, wearing a leopard print trench coat for the premiere of Shark Tale. She paired the coat with bold red pumps while allowing her locks on the loose.