celebrity
Coachella 2022 Stage Moments, Parties, And Fashion Trends
2NE1, Billie Eilish, Doja Cat, and many more.
There are dramas, excitement, predictions, and disappointments as Coachella's 3rd day approaches its end. After three years of cancelation in order to follow the strict regulations to suppress the spread of the virus, people surge towards the annual music event like no tomorrow.
We have Snoop Dogg greeting the stage with a joint in his hand, as Anitta from Brazil entertained the crowd with her voice and moves.
also 💚 @SnoopDogg pic.twitter.com/YZYyf6pKKH

— Coachella (@coachella) April 16, 2022
The 'City Girls' were "actin' up" with a pole on the stage, keeping it hot.
We're actually in love with Phoebe Bridgers for delivering "Graceland Too" as her "love song" alongside "friend Arlo Parks".
This was her debut on Coachella's stage, and before performing, had introduced "my friend Arlo Parks" as they performed together for the first time there. Seven years since she had dreamed of it.
Go the distance: Maggie Rogers rocking the Coachella!
Justin Bieber performed his hit song "Peaches" with Daniel Caesar, a shocking twist for the fans.
He did not forget to charm his fans and viewers with a little bit of fan service – the man took off his top and showed some very wholesome brotherly moments on stage.
Lil Baby delivered a powerful performance with "The Bigger Picture" rendition, written after the passing of George Floyd.
Yes indeed @lilbaby4PF pic.twitter.com/VdRgLBZJbP

— Coachella (@coachella) April 16, 2022
Harry Styles's explosive 'As It Was' performance was one of the most anticipated appearances!
Watch the @YouTube livestream with @Harry_Styles now at https://t.co/369m1pEHng pic.twitter.com/quLdkatVpm

— Coachella (@coachella) April 16, 2022
You'd be having a hard time catching your breath after he performed 'Adore You' in the loveliest way, but that's not the last of him.
Shania Twain entered the frame, and it became a country party by the two stars.
Harry Styles performs with Shania Twain during his #Coachella set. pic.twitter.com/05lj55JMBD

— Variety (@Variety) April 16, 2022
Heating up the state was also rapper Big Sean with his girlfriend, Jhené Aiko, and rapper YG.
Bigger and badder @BigSean @YG pic.twitter.com/0Tgeplla28

— Coachella (@coachella) April 16, 2022
The show had to stop for a man in distress in the front row, but Arcade Fire is killing it, followed by their tribute to Ukraine with the song 'The Suburbs'.
Shania Twain was "honored and thrilled" to have performed with Harry Styles. The two sang Twain's 'Man, I Feel Like A Woman' together, and her surprise appearance was an absolute blast.
Megan Thee Stallion arrived at Coachella's stage and hyped it up with her 'Megan's Piano'.
The 27-year-old was ready and spoke, "This is my first time at Coachella. And I'm ready to turn the f— up with ya'll."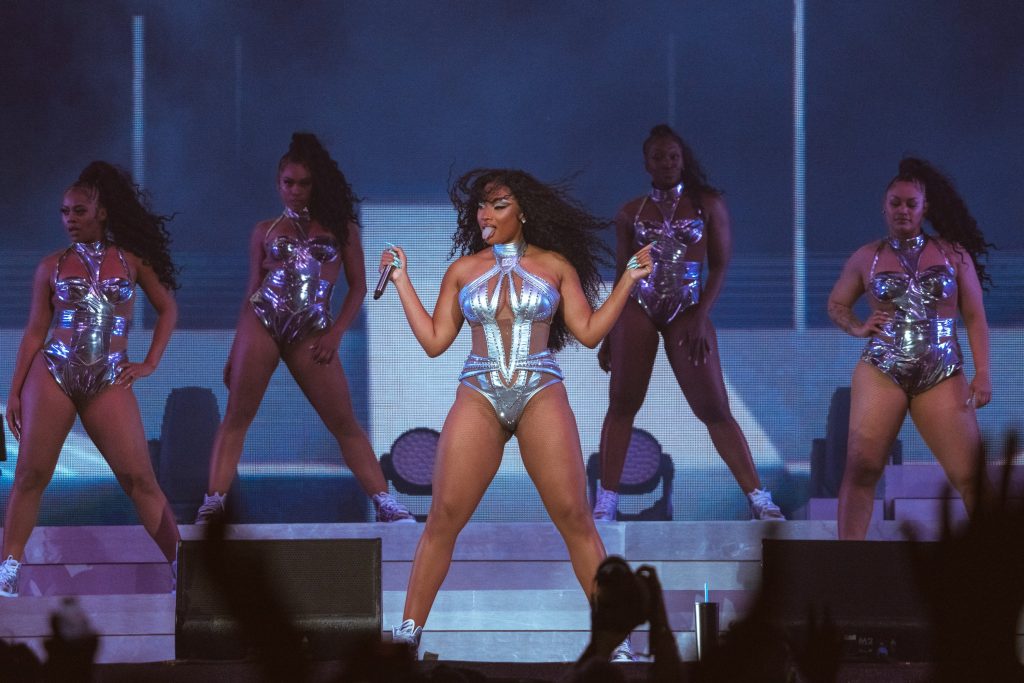 The rapper followed it up with her 'Body' hit track from 2020 before finally teasing her fans with a snippet from her unreleased song at the event. "I see y'all saying y'all want it… Maybe I should just gone 'head release this," she later shared on her social media.
The youngest Coachella artist is also here: Billie Eilish opened her stage with 'When We All Fall Asleep, Where Do We Go?'
She was 20 years old on the day she made her Coachella debut. When asked about her moment, she replied, "I should not be headlining this sh**. This is such a dream come true."
Before her, Ariana Grande held the honor as she made her debut at the Coachella stage when she was 25.
As if that wasn't amazing enough, she had Khalid join her for their 'lovely' rendition.
The 'Happier Than Ever' hit singer then listed her three rules at the event and spoke to the crowd, "Don't be an a-hole. Simple as that."
Following the second rule was: "You're not allowed to judge anybody out here. I say that every time."
But the third rule, the most important of all, she told them, "Have fun."
Performing together with her was also her brother, Finneas, with her song 'Your Power' that warns people of power abuse.
She wasn't done just yet, and this wasn't a drill. Billie Eilish introduces Damon Albarn, and honestly, nobody needs to be introduced to the lead vocalist of Gorillaz.
The two performed 'Getting Older' before Eilish continued to gush over the man as one of her life's biggest influences in music. The man "changed" her life "in a lot of ways" and said Gorillaz "changed the world. This man is literally a genius."
The 2nd day closes with the youngest headliners, and the 3rd day begins with 2NE1, the legendary k-pop group that's been so missed since their disbandment in 2016.
2gether again ♠♥♣♦ 2NE1 reuniting for @88rising's Head in the Clouds Forever set.

Watch the @YouTube livestream for more surprises from the desert https://t.co/369m1pEHng pic.twitter.com/R40ntMdx5L

— Coachella (@coachella) April 17, 2022
People were in literal disbelief to see Bom, CL, Dara, and Minzy together once again as they asked the befuddled crowd, "Are you ready for the B-E-S-T?"
With more than 314 million views, there's no way even non-fan had never heard of their song. The opening tune of 'I Am The Best' was enough to heat up the stage in such a short time.
Fashion Trends from Coachella 2022
BROCKHAMPTON is going out with a bang as they set Coachella 2022 as their last performance.
End of an era @brckhmptn pic.twitter.com/5eE8ksWuCw

— Coachella (@coachella) April 17, 2022
Doja Cat was sending the crowd that robotic/diva vibe, starting with that costume.
She also performed "Juicy" together with Tyga before following it with "Vegas." The rapper revealed that the same track will be in the upcoming Elvis Presley movie.
After Rico Nasty's surprise appearance, her stage was closed with an unreleased song before sharing important news: the Mexican Pizza is back.
🚨 @DojaCat is live now on the @youtube livestream at https://t.co/369m1pEHng pic.twitter.com/iIcNrC9ggo

— Coachella (@coachella) April 18, 2022
Karol G cannot be stopped as she invited Tiësto to perform their hit song 'Don't Be Shy.'
The Dutch DJ also rammed it up with her 'The Business' hit mix.