celebrity
All Stunning Outfits Celebs Wore At Met Gala 2023
The Metropolitan Museum in New York City played host to the 2023 Met Gala, where an impressive array of the world's most fashionably dressed celebrities were in attendance.
On May 1st, Met Gala 2023 took place at the Metropolitan Museum in NYC, attracting the most stylish celebrities and cementing its status as the pinnacle of the fashion calendar. The dress code for this year's event, "Karl Lagerfeld: A Line of Beauty," paid homage to the late German fashion designer, who passed away in 2019 and was known for his iconic work with Chanel. 
Since 1995, Anna, the Editor in Chief of Vogue, has chaired the gala and co-chaired it with high-profile guests each year. Blake Lively, Lin-Manuel Miranda, and Regina King were among last year's co-chairs, while the 2023 co-chairs included Penelope, a 48-year-old Hollywood mainstay since 1992, and Dua Lipa, a 27-year-old singer who has dominated the music scene since 2015.
Other co-chairs at this year's Met Gala included Michaela, an actress, and screenwriter, 35, known for her performances in "I May Destroy You," "Black Mirror," "Black Earth Rising," "Been So Long," and "Chewing Gum," and Roger, a former professional tennis player, 41, with over 20 Grand Slam titles and numerous Wimbledon and US Open titles. Of the best-dressed celebs, we've compiled a list of as many as we can for your perusal. Have a look!
Kim Kardashian made a grand entrance at the event, sporting a stunning custom Schiaparelli gown that was draped in 50,000 pearls and hand-strung onto her body.
The 42-year-old fashionista, who worked with Schiaparelli's artistic director, Daniel Roseberry, revealed she chose pearls because they embody Karl Lagerfeld's iconic Chanel pearls.
The dress featured draped pearls on the chest and skirt, with a nude bodysuit that showcased her hourglass figure. She accessorized with a large statement choker and a floral three-dimensional white coat that hung off her shoulders, with her raven locks styled in a 90s-inspired updo.
Rihanna and her partner A$AP Rocky made an appearance at the event, with A$AP looking sharp in a black Gucci blazer, a white button-up shirt, jeans, and a plaid kilt.
While the couple's first son's name remains undisclosed, he will be turning one on May 13. Rihanna looked absolutely stunning in a floral, three-dimensional white coat by Valentino, which had a hood that she pulled over her head.
She completed her look with sunglasses and red lipstick, then revealed a form-fitting white gown with a floral accent on the neckline that highlighted her bump.
Brazilian supermodel Gisele, 42, wore a vintage white Chanel gown that accentuated her statuesque frame, paired with a feathered statement coat.
During the Vogue.com livestream, Gisele revealed the ensemble she wore was actually from an editorial shoot with the late Karl Lagerfeld, which was one of her favorites. She also fondly reminisced about shooting barefoot for Chanel in Paris, which was a memorable experience for her.
Emily Ratajkowski opted for a taupe and silver Tory Burch gown with geometric patterns that showcased her cleavage. The author and model completed her look with a dramatic fringe as her hairstyle.
Kendall Jenner stunned in a Marc Jacobs black sequin bodysuit with cascading long sleeves that elegantly swept the red carpet.
The model, 27, accentuated her backside in the fitted look, which also featured silver collar details, and paired it with towering lace-up boots.
Kylie Jenner stood out in her asymmetrical red gown that had a blue lining and a matching coat worn off her shoulders.
The mother of two, 25, chose a design from Haider Ackermann x Jean Paul Gaultier that showcased her signature style.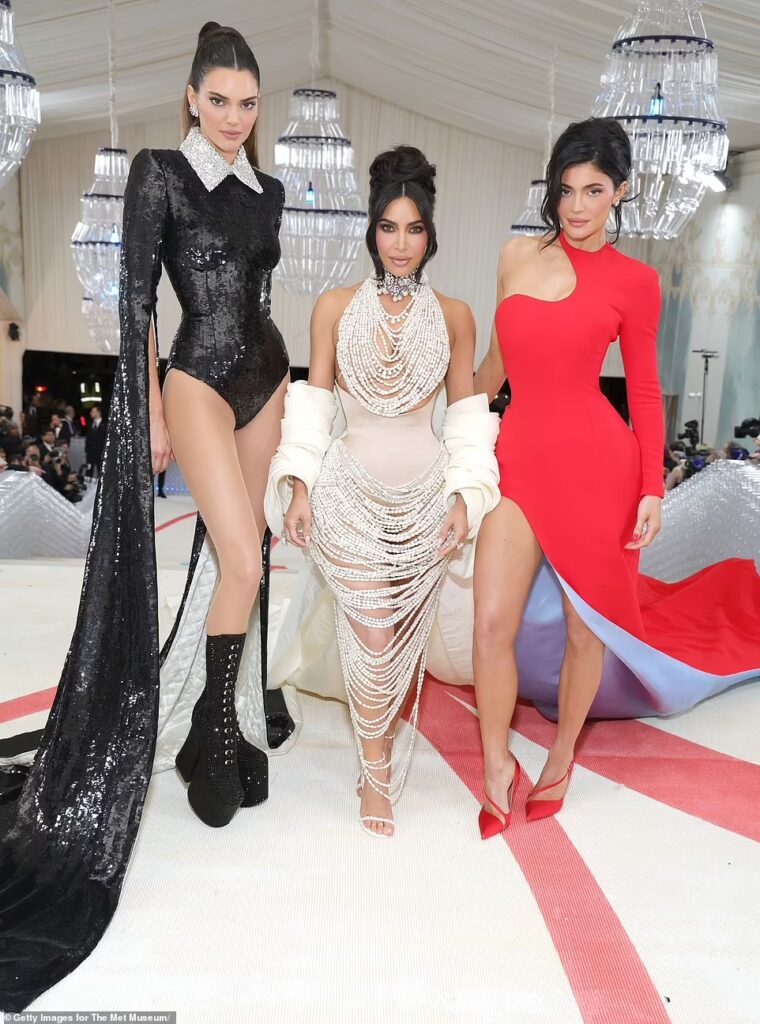 Jennifer Lopez, 53, chose to showcase her flat midriff in a Ralph Lauren dress, pairing the frock with gloves and a hat.
Cardi B, 30, wore a Chenpeng Studio gown featuring a bustier top.
During her interview with Vogue.com, she revealed that the skirt was inspired by the Chanel boy bag and the floral detail on the skirt. Her silvery locks were also a tribute to Karl.
Margot Robbie wore a black Chanel gown previously worn by Cindy Crawford in 1993 and designed by Karl.
The gown had a sheer bodice that showcased her flat midsection. Margot was the last Chanel ambassador personally chosen by Karl before his passing.
Gigi Hadid looked stunning in a custom black Givenchy gown that had a sheer maxi skirt made of lacy material and a matching corset.
Jessica Chastain debuted her new platinum blonde hair color at the Met Gala, wearing a Gucci gown with a sweetheart neckline and matching gloves.
Karlie Kloss showed off her baby bump on the red carpet. Karlie and her husband Joshua Kushner are already parents to their son Levi, whom they welcomed in 2021.
Serena Williams, married to Alexis Ohanian, also revealed that they are expecting their second child. The couple has a five-year-old daughter named Olympia.
Salma Hayek accentuated her curves in a red Gucci gown with pearl accents on the sleeves.
Janelle Monae wore a black and white Thom Browne coat over a leotard with a sheer hoop gown over it. She later removed the coat to reveal the outfit underneath.
At the Met Gala, Rita Ora turned heads in a black sheer gown with a dramatic train by Prabal Gurung.
Lil Nas X made a statement with silver body paint, matched with speedos and boots in the same hue.
Pete Davidson rocked a unique ensemble consisting of a long jacket, an edgy top, a bucket hat, and gloves.
Kerry Washington and Billie Eilish both went for daring looks, choosing see-through dresses for the occasion.
Lily James added glamour to the event with her black strapless gown, gloves, and a Tamara Ralph Couture design.
Priyanka Chopra turned heads in her Valentino gown with a dramatic coat and white gloves. She posed for photos with her husband, Nick Jonas, who looked sharp in a black leather jacket.
Lily Collins exuded elegance in a black and white Vera Wang gown with puff sleeve accents.
Brooklyn Beckham and his wife, Nicola Peltz, both looked stylish in Valentino attire at the Met Gala.
Florence rocked a stunning Valentino gown that boasted a bow detail at the center of her torso.
Cara Delevingne turned heads in a plunging white dress with a long train, which she paired with black leg warmers and stilettos.
Camila Morrone opted for a black velvet and white lace number that showcased her beauty.
Elle Fanning looked ethereal in a Vivienne Westwood gown.
Lizzo looked breathtaking in a black gown with pearl accents and matching boots.
Anne Hathaway turned heads in a Versace dress adorned with safety pins.
Dua Lipa looked fabulous in an off-white textured gown by Karl Lagerfeld for Chanel, which Cindy Crawford had worn in 1993.
Pedro Pascal rocked a red coat and shorts, while Simu Liu looked dashing in a black and white suit for a classic and timeless look.
Penelope Cruz looked stunning in a silver-accented Chanel gown with a veil detail and a deep neckline.
La La Anthony looked gorgeous in a white and gold-accented Sergio Hudson gown that complemented her figure.
Olivia Wilde and Margaret Zhang wore the same Chloe gown, based on the 1983 Karl Lagerfeld design.
Kristen Stewart looked chic and stylish in a cropped blazer paired with baggy trousers and dress shoes.
Doja Cat donned an Oscar de la Renta dress and prosthetics on her face to transform into Choupette for the Met Gala.
Nicole Kidman made a bold statement by wearing the same dress she had worn in her 2004 Chanel No. 5 commercial.
Irina Shayk looked stunning in a white silky gown adorned with floral accents and completed her look with a pair of slippers.
Suki Waterhouse and her partner Robert Pattinson were unable to take their eyes off each other at the event.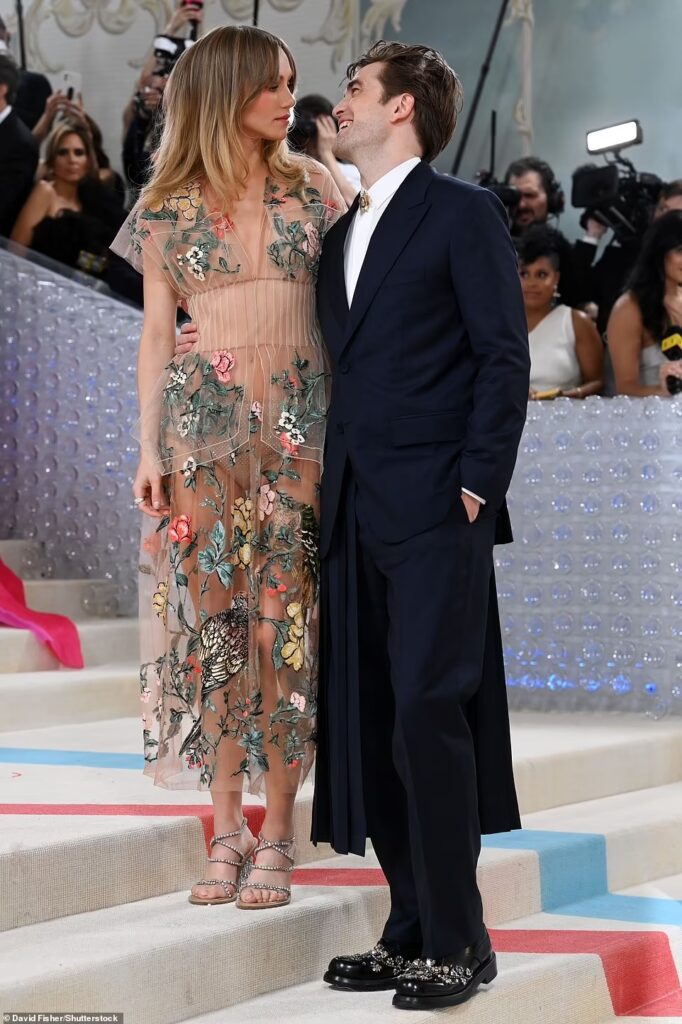 Ashley Graham flaunted her figure in a pink and black frock that accentuated her curves.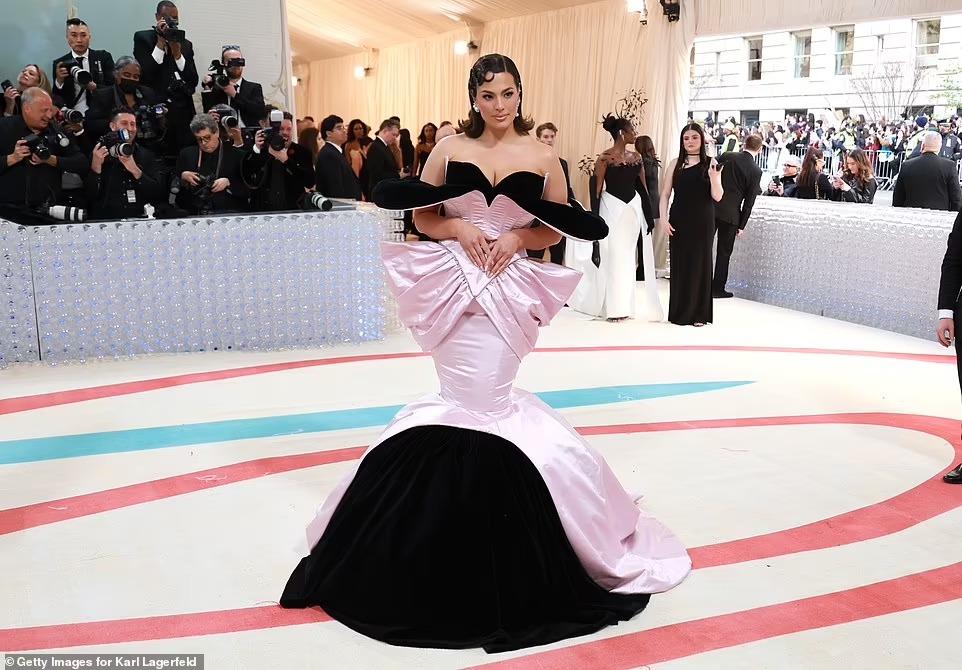 Lea Michele dazzled in a silver Michael Kors gown, while Yara Shahidi smoldered in a strapless gold and bronze gown.
Michaela Coel turned heads in a gold, brown, and white ensemble and paired it with striking heels.
Anna Wintour arrived in a patterned gown with a white underskirt and was seen with actor Bill Nighy.
Bad Bunny, who is rumored to be dating Kendall Jenner, opted for a white suit with a floral jacket.