Beauty
50 Runways Outfits That Look Evidently Different On Models And Celebrities
Which is your favorite?
As we are gradually bidding goodbye to February and about to hello to a sunnier March, it's time to dive into style inspiration from the celebrity universe. Specifically, if you've been hoping to treat yourself to some new classic purchases, opting for some of our compiled below will perhaps be one of the best choices made. But then, it's been a difficult choice to choose which look is outstanding on our list? The year 2022 is seeing stunning fashion statements and revolutions, many of which can't be overlooked.
And as you will see, the runway models have perfect proportions, tall and endlessly long legs, and it's naturally believed that outfits look showier and advantageous on this kind of body shape. They got to rock the outfits first before even celebrities graced the red carpet in the same attire. While it can be pretty heartbreaking for some people to see someone else wear the same outfits as theirs, some celebs ensure they give their look a slight twist while a few opt to tone down theirs with makeup and accessories.
Blake Lively Looked Stunning At The 'Savages' Premiere Event In Los Angeles As She Donned This Nude Embroidered With Black Beads.
At The Golden Globe Awards In 2017, Actress Lily Collins Donned This Rosewood Pink A-Line Couture Gown That Had Beads Embroidered In Floral Patterns.
Chrissy Teigen Is One Of The Diehard Fan Of Zuhair Murad. Here She Rocked A Beautiful Bedazzling Dress By The Designer For The 2015 Oscars.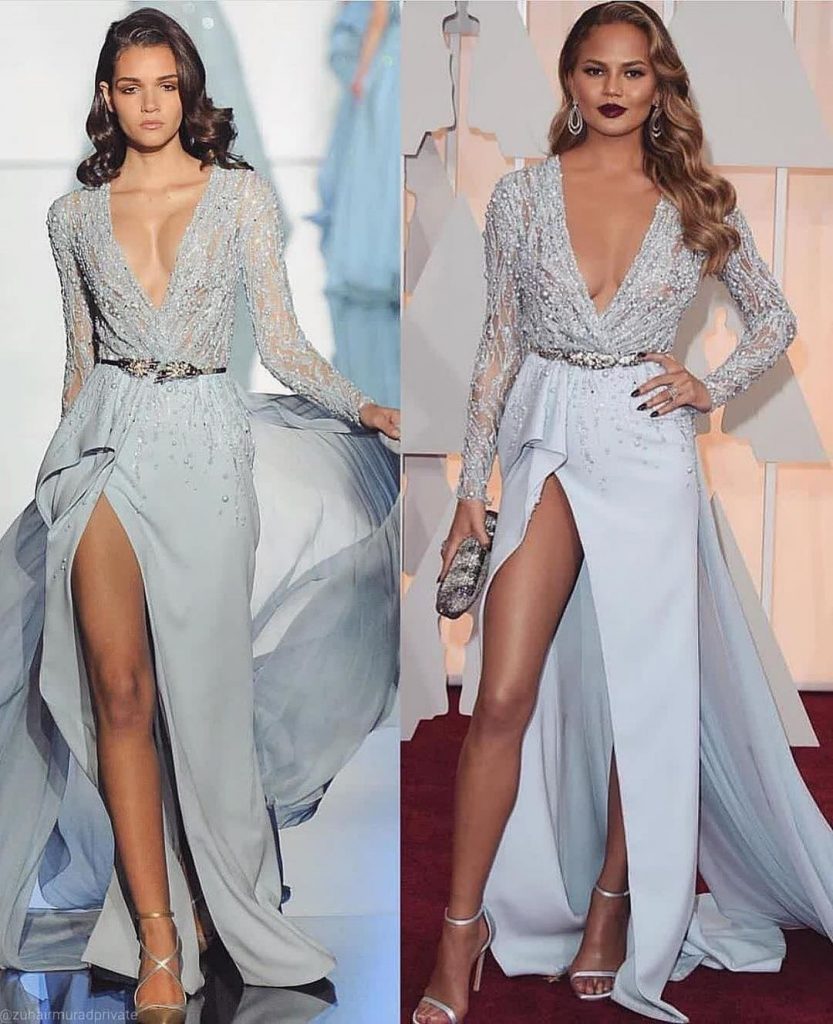 Naomi Campbell Rocked This Sporty Outfit By Versace On The Spring 2017 Runway While Lady Gaga Rocked The Same Attire To The Pre-Super Bowl Press Conference.
This Outfit By Alexandre Vauthier Was First Debuted At The Fall 2017 Fashion Show. Kendall Jenner Also Opted For The Dramatic Top Complimented With Denim Shorts.
This Metallic Outfit By Oscar De La Renta Was Debuted With Monochrome Accessories, But Selena Altered Her Version With Ombre Shoulder-Duster Earrings, And Champagne Velvet Giuseppe Zanotti Mules.
J.Lo Attended The NBC Upfronts, Promoting World Of Dance Wearing This Blush Tea-Length Dress By Elie Saab Couture From The Spring 2017 Collection.
Rihanna wore a baby blue satin bralette, rocked a silver choker with a dark furry stole, and a Balenciaga silver handbag.
Nicole Kidman Had Her Dress Look Exactly Like This Lace Tea-Length Outfit, Designed By Zuhair Murad Couture And Worn By Model Sara Sampaio Amid The Fall 2017 Couture Show.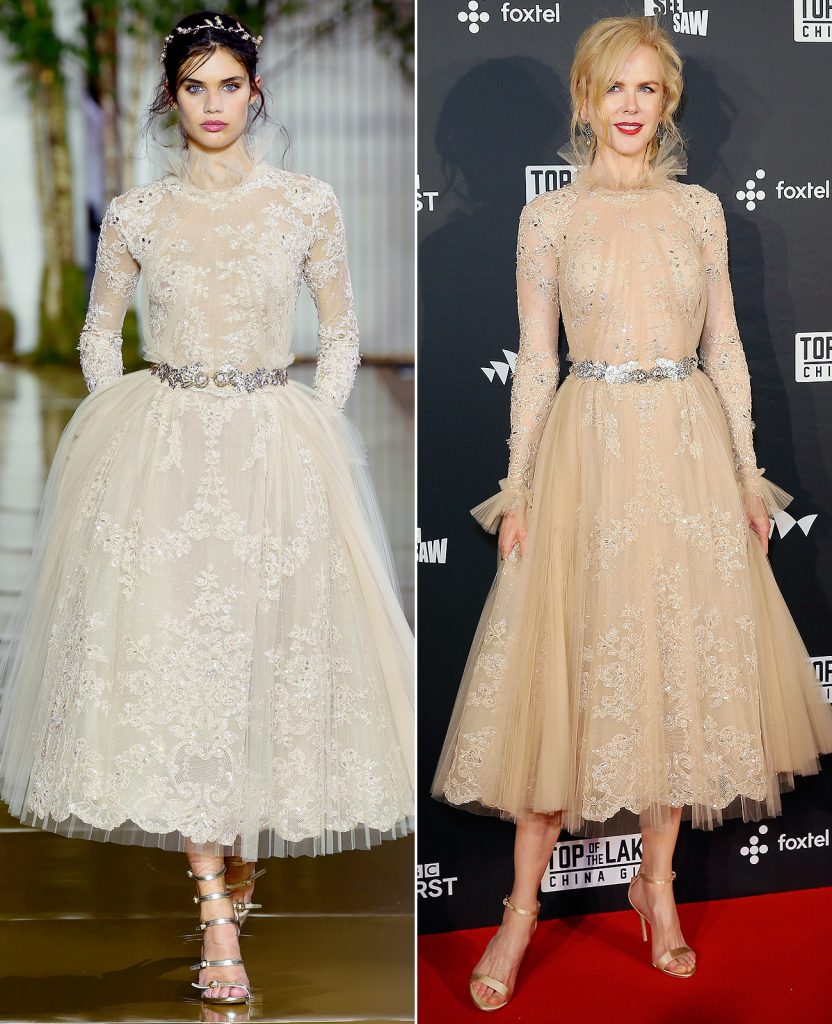 Chanel Iman Dazzled In This Floral Print With A Plunging V-Cut When She Attended The Amfar's 22nd Cinema Against AIDS Event.
Gigi Hadid Attended The 2017 Glamour Women Of The Year Awards In This Intricately Detailed Gown.
Actress Olivia Culpo Rocked The Cross Neck, Which Had First Debuted On The Runway For The 74th Annual Golden Globe Awards.
Chinese Actress Bingbing Attended The Premiere Of 'The Sea Of Trees' In This Floral Murad's Couture Gown.
Jennifer Lopez Made Her Staff Find Her This Dress From The Runway To Attend The 2010 MET Gala.
"Is This Outside Wear Or Inside Wear? What Do You Say About This #Julienmacdonald Sheer Outfit?"
Model Carolyn Murphy Wore This Cutout Dress By Michael Kors During The 2017 Runway. Zendaya, On The Other Hand, Rocked It To The CFDA/Vogue Fashion Fund Awards.
Victoria's Secret Angel Stella Maxwell Wore This Striped Cold Dress By Balmain On The Spring 2017 Runway While Sara Sampaio Rocked It To The Cannes's Fashion For A Relief Runway Show.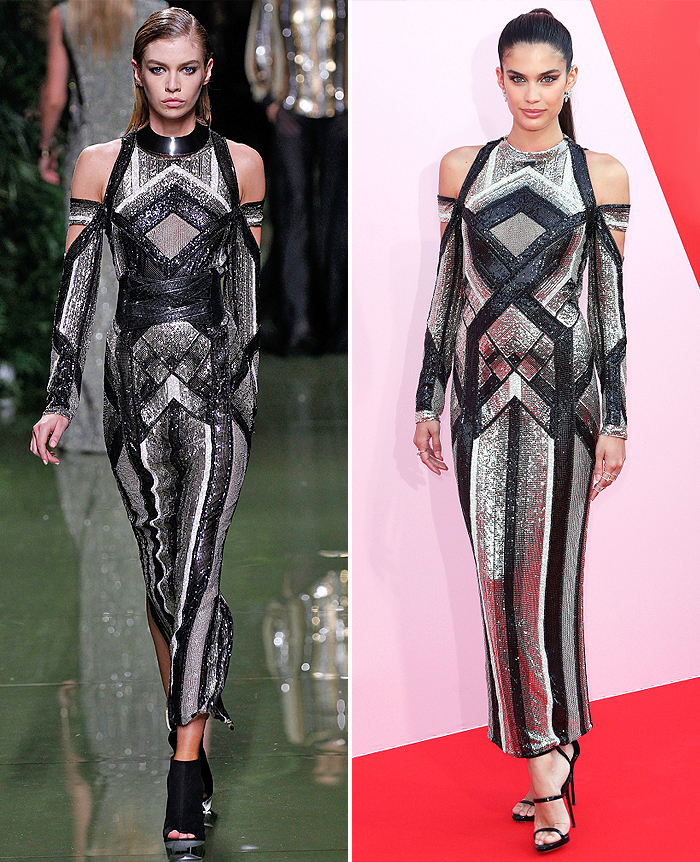 Victoria's Secret Angel Josephine Skriver Debuted This Prabal Gurung's Dress At The Fall 2017 Runway While Candice Swanepoel Arrived At The 2017 Tony Awards In A Reformed Version.
Hailee Steinfeld Discarded The Ruffles, Cape Sleeves, And Most Of The Length For Her Mini Dress. Designed By Elie Saab, It Had Been Shown Initially As A Long Dress During The Fall 2017 Fashion Show.
Blake Lively In Chanel Wasn't The First To Wear This Outfit. Gigi Hadid Worn It For The Fall 2017 Runway, But Then Blake's Altered Version Seems To Be The Top Notch.
Alessandra Mastronardi Grabbed All The Attention In This Chanel Haute Couture's Pale Pink Off The Shoulders Dress When She Arrived At The Emmys.
Isn't She Beautiful? Kristen Bell Confidently Rocked This Elegant Floral Dress That Had First Debuted On The Runway For The 2016 Emmys.
When She Attended The TIME 100 Gala Event In New York City, Blake Lively Opted For This Festive, Floral, And Mainly Fringe Midi From Fall 2017. Marchesa Had Designed The Dress.
Emma Watson [In Dior] Wore This Outfit From Spring 2017 With The Same Choker As The Runway Model. However, Her Version Was Alternated.
Just Like The Spring 2017 Runway Appearance, Jennifer Lawrence Also Complimented Her L'Etoile Sweater With A Sheer Tulle Skirt.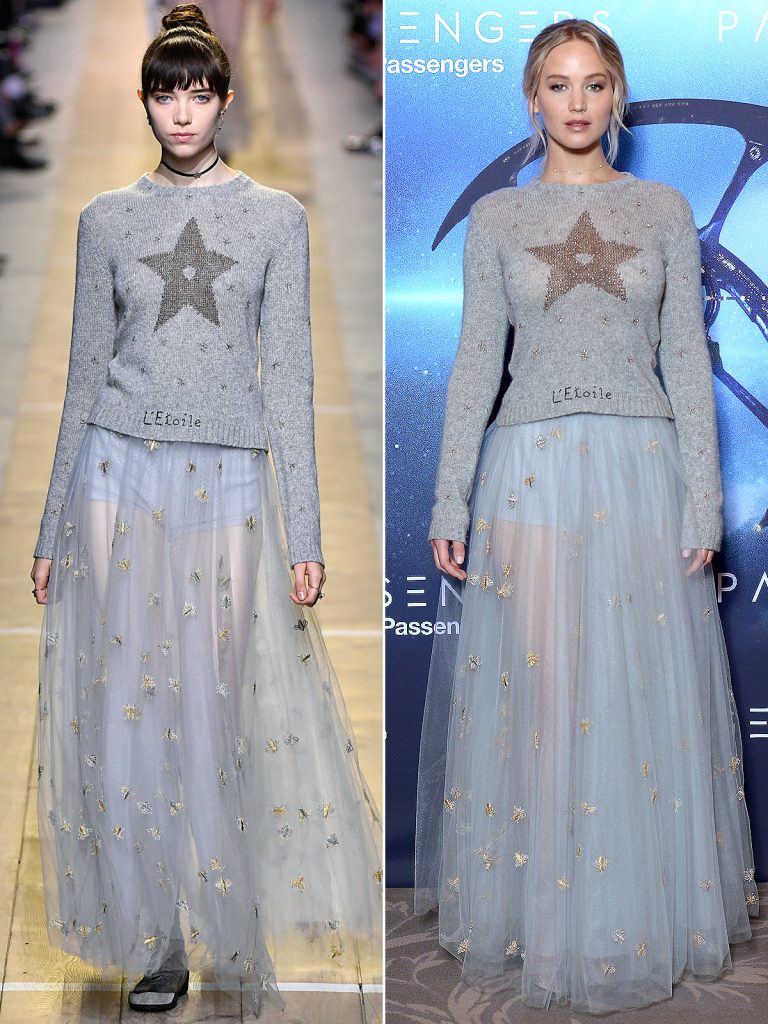 Blake Lively [Right] Arrived At The People's Choice Awards In This Minidress By Ellie Saab, The Same Attire Victoria Secret Angel Sara Sampaio [Left] Debuted During The Spring 2017 Runway.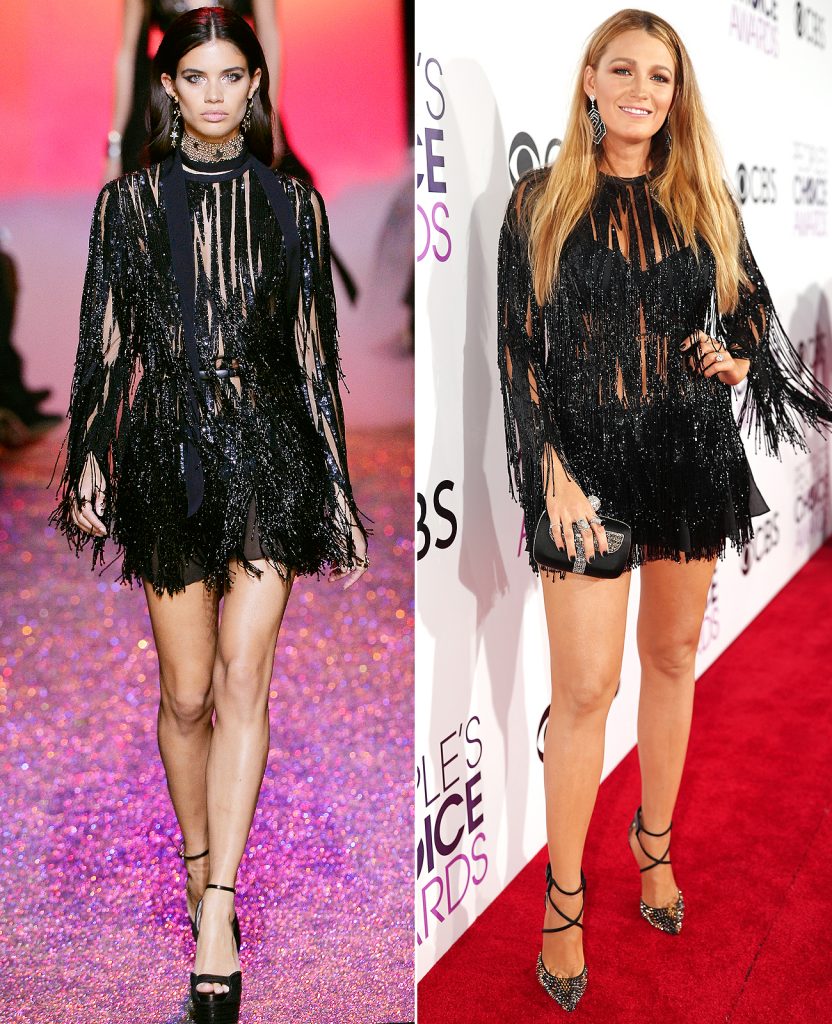 Fashion Battle Between Sisters: Bella Hadid Rocked This Shirt-Inspired Gown To The Brandon Maxwell Runway While Her Sister Gigi Donned It To A Party In Paris But Complimented Hers With A Diamond Choker And Silver Heels.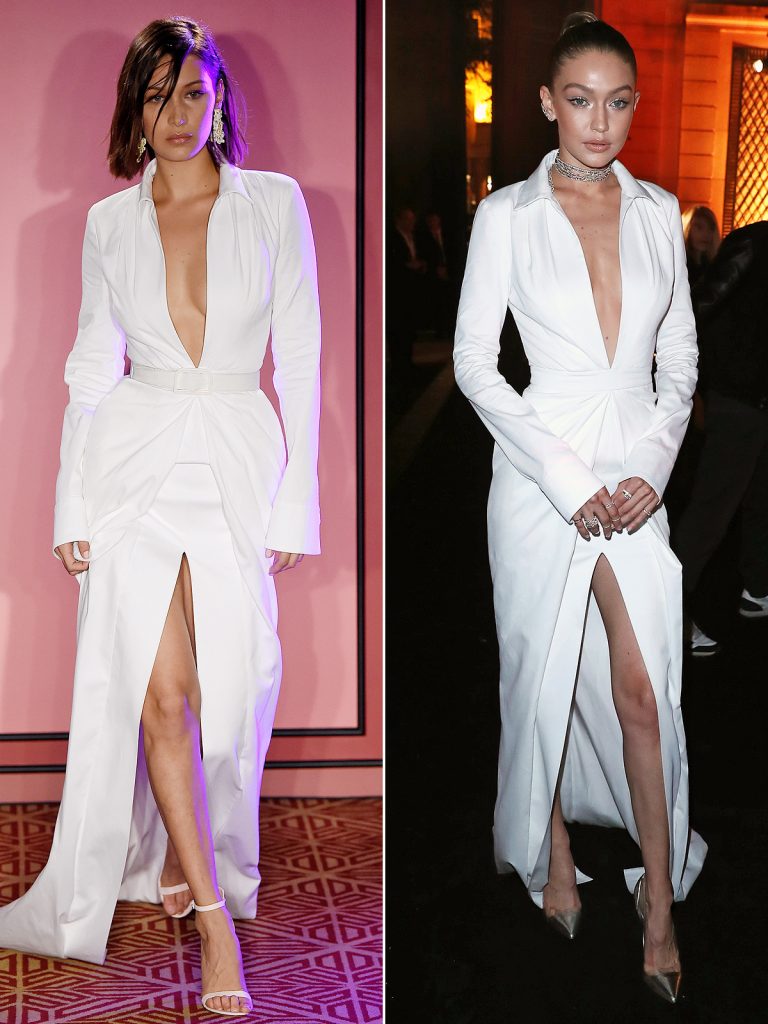 Tracee Ellis Ross Rocked This Same Red Cutout Midi That Gigi Hadid Wore In Prabal Gurung's Spring 2018 Show To The Glamour's Women Of The Year Awards.
Kendall Jenner And Fellow Model Chanel Iman Did Pull It Off In This One-Shoulder Top Over A Long-Sleeve White Blouse With A High-Slit Maxi Skirt.
Actress Zoe Saldana Proved She's A Fashion Risk Taker When She Opted For This Midi Dress With Off-The-Shoulder Sleeves That Supermodel Natalia Vodianova First Wore On The Fall 2017 Runway.
Gigi Hadid And Kate Moss's Younger Sister Lottie Went All Sheer In This Floral Fendi Spring 2017 Outfit. We Can't Decide Who Wore It Best!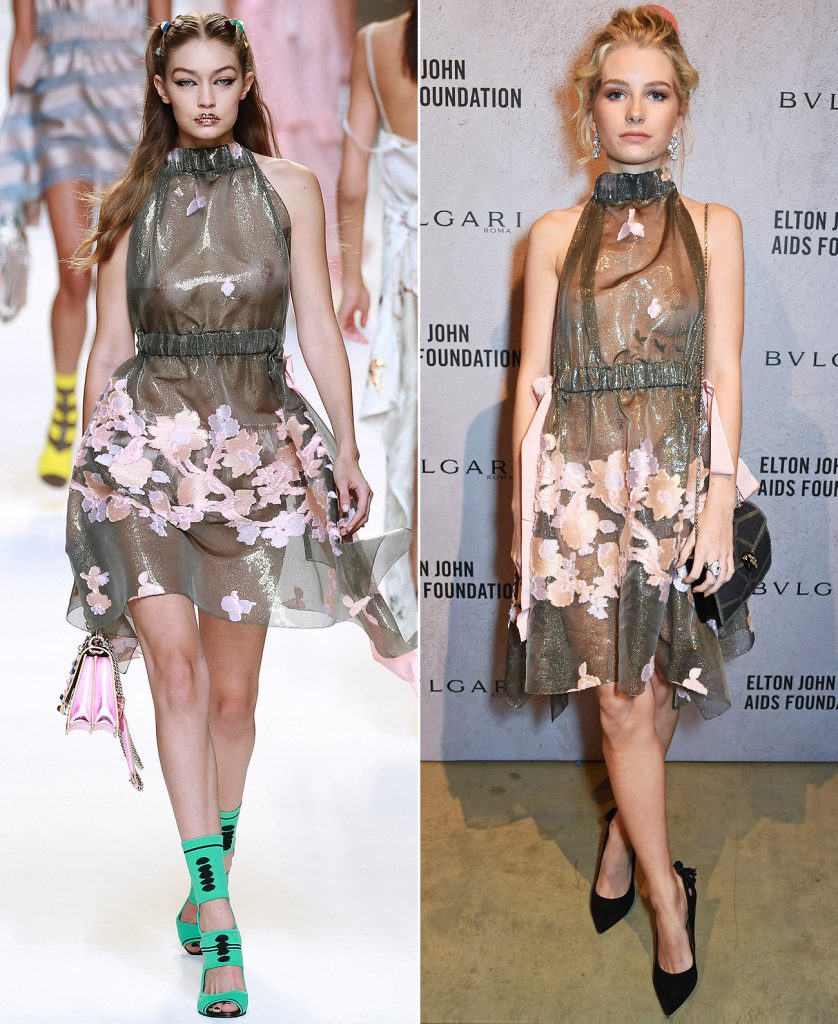 Gwen Stefani Confidently Rocked This Outfit From Marchesa's Spring 2017 Collection.
Bella Hadid Modeled This Dress On The Runway And Escaped A Wardrobe Malfunction. However, Cara Delevingne Rocked The Same Sparkly, Plunging High-Slit Gown To The Valerian And The City Of A Thousand Planets Premiere.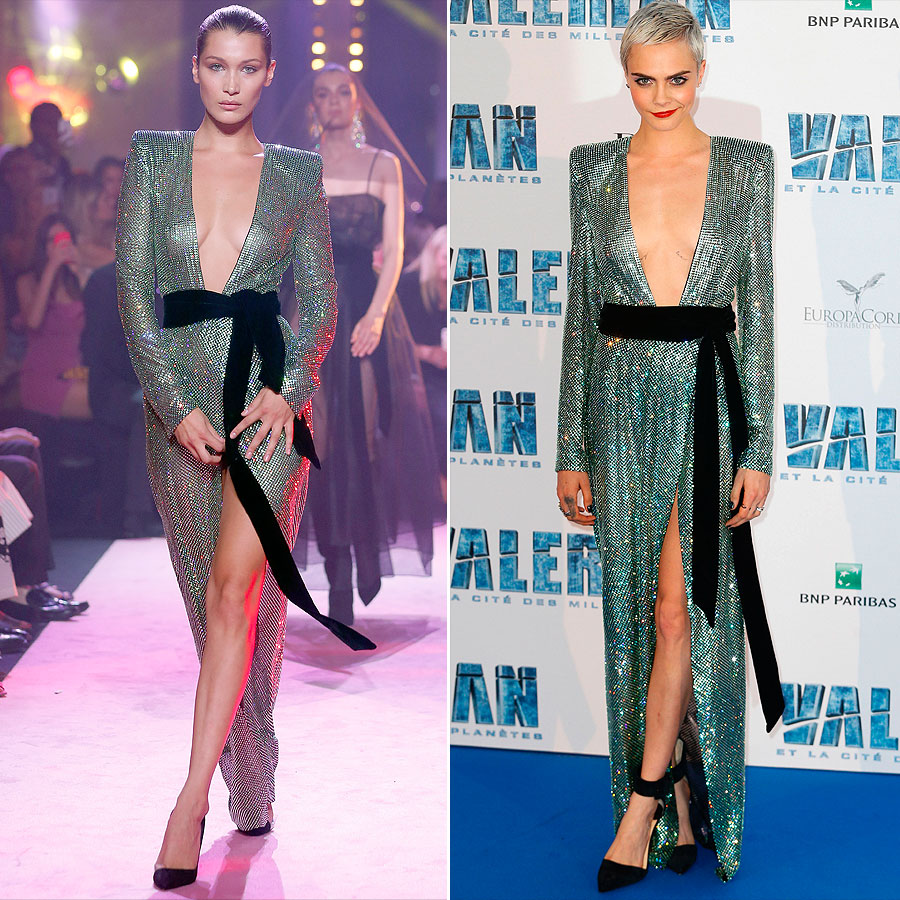 Emma Watson Rocked This Strapless Black Jumpsuit With Silk Burberry Pumps From The Beauty And The Beast Press Tour. But She Switched Up The Gold Flower.
Bella Hadid Walked The Chanel Runway In This 3D-Flower-Topped Leather Minidress During Metiers d'Art 2015/16 While Alexa Chung Rocked The Same Outfit But Without The Long Coat To A Tribute To Tom Hanks By Chanel.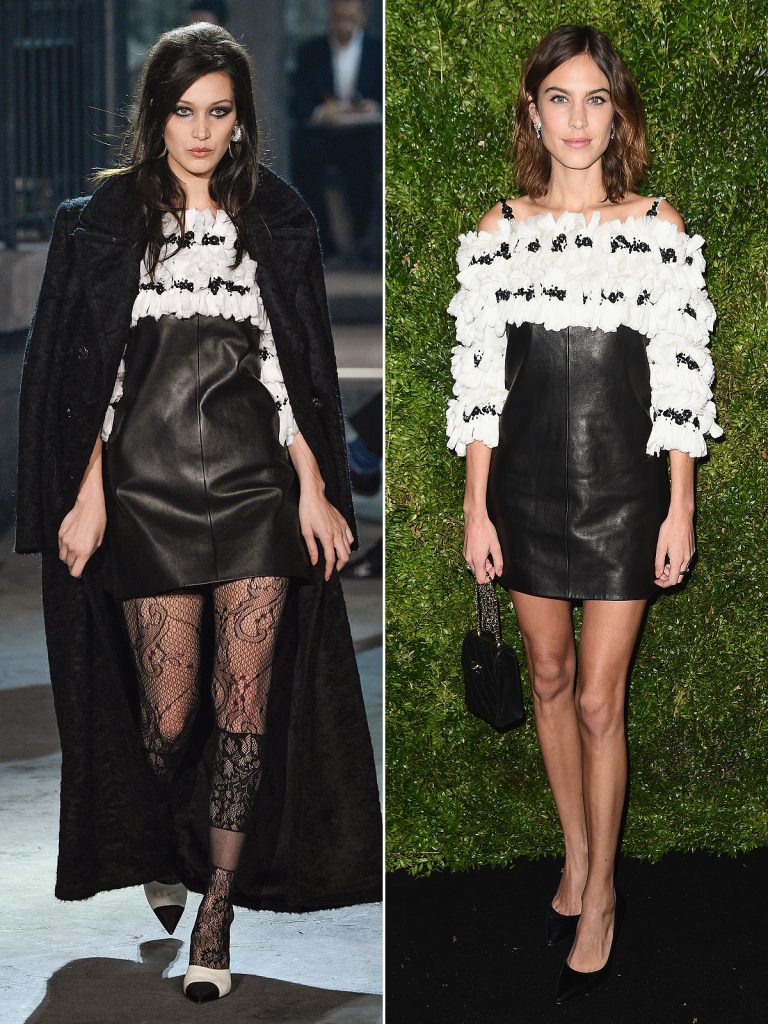 Rodarte Is Known For Its Intricate Artistic Designs. Nicole Donning This Outfit From The Designer Sure Made A Bold Fashion Statement.
Kate Hudson Arrived At The Watch Hunger Stop Dinner Hosted By Her Designer Friend In This Black Leaf-Embroidered Bodysuit And Ruffle Skirt. However, Bella Hadid First Wore It In Kors' Spring 2018 Fashion Event.
Kate Hudson Looked Dope In This Plunging Neckline Floral Dress Gown By Micheal Kors. But Then, It Was First Debuted By Kendall Jenner During Spring 2017.
Dakota Fanning Rocked The Same Celestial Mini Dress That Hailey Baldwin Rocked In The Spring 2017 Show But Ditched The Scarf And Added A Lining.
For The 5th Annual Save Th18e Children Illumination Gala, Jenifer Garner Rocked This Dress Worn By Kendall Jenner At The Fall 2017 Runway But Changed Things Up With Fringes.
Jennifer Lawrence Took A Head-Turning Pose In This Gorgeous Semi-Bridal, Semi-Sheer Bustier Gown From The Spring 2017 Collection.
Hailey Baldwin Wore This Sharp-Shoulder Shorts Suit During The Spring 2017 Runway, But Gigi Hadid Rocked It As One Of Her Six Looks During Her 2016 American Music Awards Hosting Gig, Alternating The Neckline For A Friendly One.
Kirsten Dunst In Rodarte Kept Her Look Almost Identical To The Version Of The Fall/Winter 2017 Couture Runway Show, Including Her Shoes And Accessories.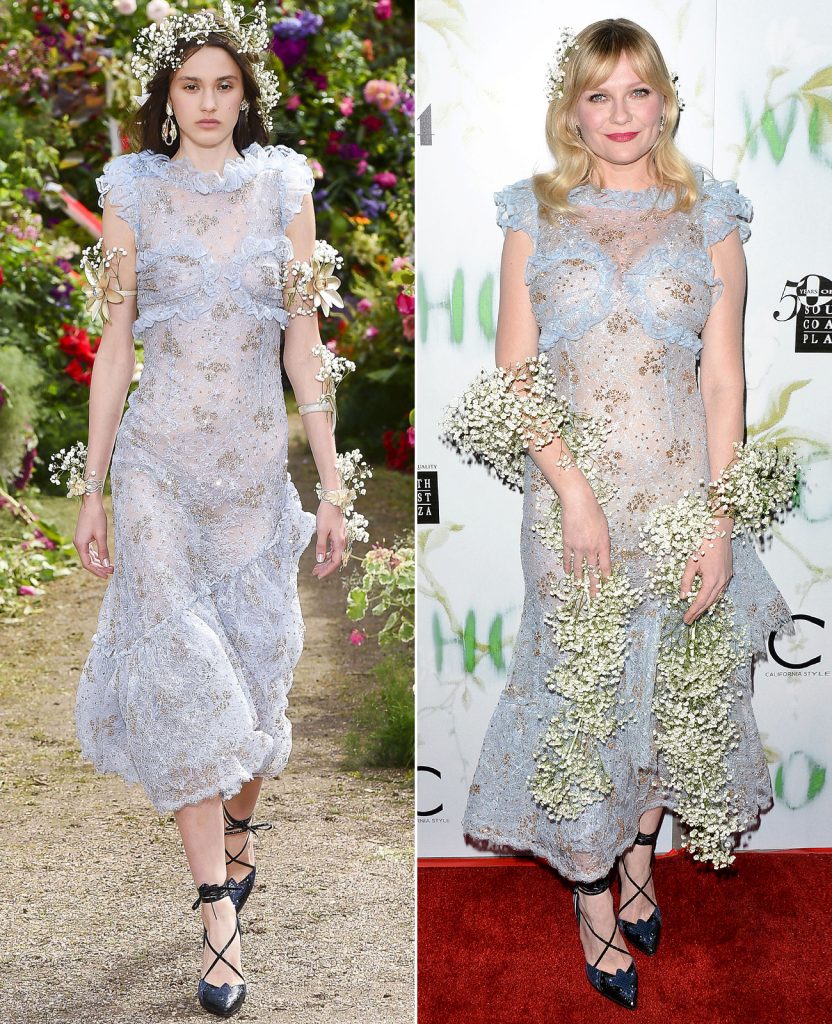 Chrissy Teigen Rocked This Sheer, Shimmering Black Midi By Micheal Kors To An Event; The Same One Bella Hadid Had Rocked On The Spring 2017 Catwalk.
Zoe Saldana Rocked This Sequin Creation Just As The Designers Intended. But Then, She Alternated The Shoes For Her AMAs Look.
Serena Williams' Glamour Women Of The Year Paid Tribute To Gigi Hadid. The Tennis Player Also Opted For The Same Gold Baroque Embroidered Mini The Model Wore On The Spring 2018 Runway For The Event.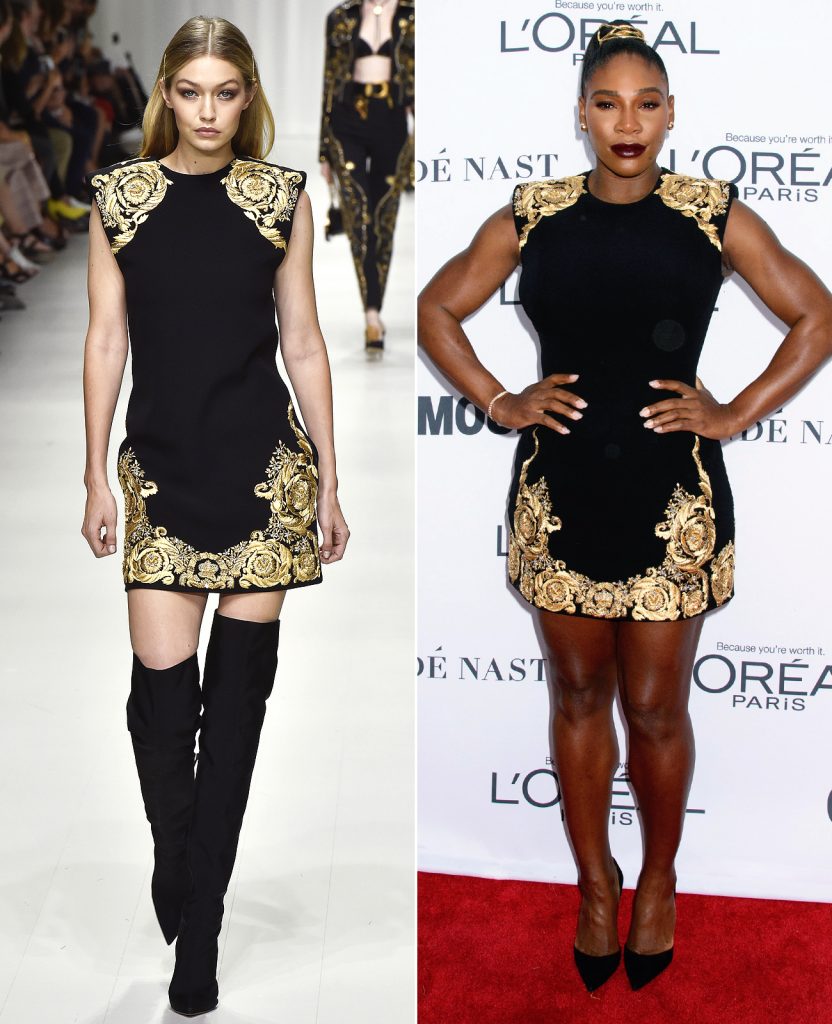 Kim Kardashian West Appeared In An Alternated Version Of This Stunning See-Through Creation For The GQ Men Of The Year Awards 2014.
Weeks After This Dress Hit The Chanel Resort 2018 Runway, Kristen Stewart Rocked The Same Attire To The Screening Of 120 Beasts Per Minute At Cannes.
Bella Hadid Looked Dazzling In This Outfit Designed By Creative Director Maria Grazia Chiuri.
Laura Dern, The Big Little Lies Actress Received Her Emmy In This Floral, Feathered Dress From The Spring 2018 Collection. However, She Alternated Her Version Filling In The Cutouts.
Katy Perry Undeniably Appeared Very Stunning In This Sweet Spring 2017 Marchesa Gown.
Sarah Paulson And Her Stylist Had First Spotted This Gown By Carolina Herrera On Eva Chen's Instagram Story. Without Holding Back, They Went For It, And It Came Out Gorgeous.