celebrity
18 Women Leonardo DiCaprio Has Dated
He does have a thing for supermodels!
Leonardo DiCaprio has an impressive career thanks to his exceptional performances in movies like Titanic and "Don't Look Up." However, the list of women he's dated is perhaps even more impressive, ranging from a string of beauties who have always been either actresses or supermodels. He had been shaded for his choice of women when introduced at the 2016 Golden Globes by host Tina Fey.
He might not have loved the joke, but there seems to be an element of truth to it.
The Hollywood star has dated some of the biggest names in the fashion universe, including Gisele Bundchen and Eva Herzigova, and not to forget Blake Lively. While his taste is plain for the public to see, Leonardo has always kept things discreet with his love life, often trying to conceal his identity when he goes on dates wearing a face cap, a pair of sunglasses, and even a hoodie. We've compiled a list of his romance; you'll definitely recognize them.
Camila Morrone
Camila is just 24years, but the two are still going strong after more than four years. The couple met at the Cannes Film Festival in 2017 and had appeared in public at the 2020 Oscars. Rumors have opined the two are even now living together.
Kelly Rohrbach.
Leonardo and Kelly, the sports Illustrated Model, who share an age gap of 16years, separated in 2016 after a few months of dating. At the time, the decision to part ways was mutual, especially as they both have intense work schedules and a lot going on in their lives. They remain friends, and Kelly is now married to attorney Steuart Walton.
Blake Lively.
The duo had met aboard Steven Spielberg's yacht in Monte Carlo while in Europe for the 2011 Cannes Film Festival. The affair lasted five months, but they did have a go time together, having jetted on romantic dates to Los Angeles, New York City, and Venice. Currently, Blake is married to Ryan Reynolds, and they share daughters, Inez and Betty.
im shocked to find out Blake Lively dated Leonardo Dicaprio pic.twitter.com/dahDLEYaIe

— d (@goyardclutch) September 1, 2017
Bar Refaeli.
It was an on-and-off romance that lasted from 2005 to 2010. The couple met at a U2 concert in Las Vegas and toured worldwide from there. Refaeli even took the actor and his mom Irmelin Indenbirken to visit her family in Tel Aviv to commemorate his 36th birthday. However, they didn't last together, and Refaeli is now married to businessman Adi Ezra.
Eva Herzigova.
The actor met with the supermodel at his 1998 premiere for Man in the Iron Mask. Rumors had it that the two had a two-month-long affair while Eva was married to Bon Jovi drummer Tico Torres. Currently, she now has three sons with her fiancé Gregorio Marsiaj.
Liv Tyler.
In the late 90s, party photos surfaced, making fans wonder if Leonardo "walked the way" with the model-actress daughter of Steven Tyler. However, Liv now shares son Milo with ex-husband Royston Langdon and daughter Lula and son Sailor with partner David Gardner.
Kristen Zang.
The Hollywood star dated the Michigan-born model from 1996 to 1997. At the time, he had even taken her as his date to the Romeo and Juliet premiere in Los Angeles.
Bridget Hall.
Model Bridget is the first woman linked to Leonardo since he launched his movie career.
Amber Valletta.
As Leonardo's Titanic movie shot him to fame, the actor reportedly saw Amber, an Arizona-born model, in a magazine and had his representative track her down. However, Amber now shares son Auden with ex-husband Chip McCaw.
Naomi Campbell.
Leonardo had a very short fling with the supermodel following Titanic's release. But as it didn't work out, the pair remained close friends and were seen yachting and lunching worldwide.
Gisele Bundchen.
The duo lasted from 2000 to 2005 and had shared passions, including sitting courtside at basketball games and raising awareness for environmental issues. Leonardo had even walked the 2005 Oscar red carpet with the Brazilian model on his arm. However, Gisele is now married to NFL star Tom Bray and shares a son and daughter.
Gisele dating Leonardo DiCaprio was more important than the presidential elections pic.twitter.com/DMbf6YUkKy

— – (@skinnyvalentine) May 3, 2018
Toni Garrn.
Garrn is among the list of Leonardo's model lovers. The duo stepped out together for the 66th Cannes Film Festival in 2013 but split the following year. Currently, she's married to actor Alex Pettyfer.
Nina Agdal.
In 2016, it was reported that Leonardo was dating the Danish model, who was then 17years his junior. The duo had been vacationing together in the Bahamas, New York, and Montauk but broke up in 2017.
Erin Heatherton.
The actor dated the Victoria's Secret model for ten months before splitting in 2012. At the time, a source leaked that their buys schedules were to be blamed and that there was no bad blood between the two.
Anne Vyalitsyna.
After his breakup with Refaeli, Leonardo had a short fling with the swimsuit model. The duo had met in Ibiza and was pictured close while hanging out on a yacht in 2019. Currently, Anne shares a daughter Alaska with her fiancé Adam Cahan.
Virginie Ledoyen.
In his 2000 flop, the Beach, the actor met the French actress and played lovers in the film. Reports had it that their movie-set romance came to life. However, Virginie now shares daughter Lila with ex Louis Soubrier and daughter Amalia and son Isaac with ex Arie Elmaleh.
Helena Christensen.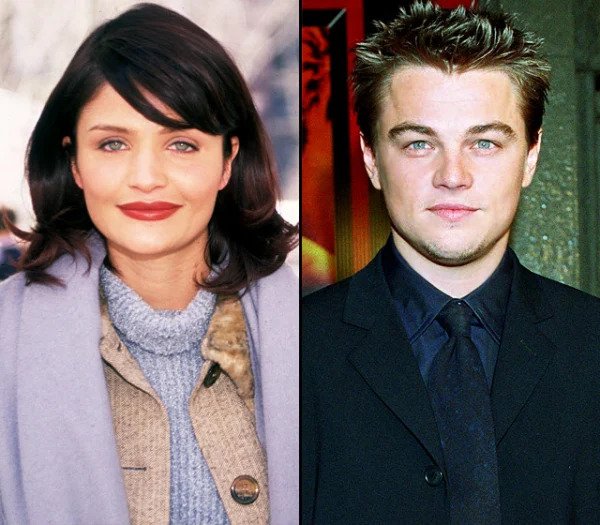 Around the time of Titanic's release in 1997, Leonardo briefly hooked up with the Danish beauty. However, she now shares a son Mingus with her ex Norman Reedus.
Claire Danes.
This duo starred as Shakespeare's young lovers Romeo and Juliet in the Baz-Luhrmann-directed movie in 1996. It was confirmed if the dup had a real-life fling, but reports said they had chemistry offset. However, Claire is now married to Hugh Dancy and shares sons Rowan and Cyrus.