Body Positivity
17 Celebs Who Are Not Afraid To Show Their Natural Body
Always embrace your true self.
After years of permitting their imperfections to be Photoshopped, many female celebrities are now sharing photos of their true forms and flaws. And as a result, unrealistic beauty standards and the mentality that weight gain, stretch marks, cellulite, or skin imperfections are things to be hidden away are gradually shifting.
Not minding the cruel comments hinged on body image, celebrities are speaking out by getting honest about their appearance. They've been sharing candid photos of their body without filters, and it's safe to say they aren't ashamed in the slightest. Without holding back, have a look and enjoy! You'll definitely be inspired.
Jameela Jamil.
The founder of I WEIGH is all about showing her body in its un-Photoshopped state. And just recently, the 32-Year-Old insisted that b**b stretch marks are a normal, beautiful thing.
Lexi Mendi.
"I was thinking thrice if I wanted to keep this photo or dump it in the bin…ONLY because of my tiger stripes. I caught myself right before tossing it and just could. Not. Believe. How I let myself get so insecure about something so natural!!!" the Filipino blogger wrote alongside her beach snap [pictured above].
Barbie Ferreira.
Model Barbie remains confident about sharing intimate snaps of her body. In this one, the American body-positive campaigner showed her stretch marks that lead up to her stomach.
Khloe Kardashian.
Khloe is known for her rigorous workout routine, yet she's also not afraid to show off her 'stripes,' the nickname she has since given her stretchmarks.
Chrissy Teigen.
Teigen is known for keeping it real; therefore, it was no surprise to see the positive body advocate post this snap of her thighs with stretch marks.
Camila Cabello.
The 25-Year-Old singer-songwriter didn't mind the trolling as she recently showed her bikini bod in a pair of comfy orange shorts over her thong-style bottoms while enjoying a swim off the coast of Capri in Italy.
Robyn Lawley.
In this snap, the Aussie model showed off the stretch marks stemming from her bikini line as she urged her followers to 'love your body now.'
Stacey Solomon.
Stacey, 29, so much loves how much her stretch marks shine in the sun.
Melissa Suffield.
The ex-EastEnders star Melissa Suffield took to Instagram to share images that highlighted her pregnancy stretch marks. In the caption, she wrote they aren't ideal, not what she wanted, but they are what she naturally got.
Ashley Graham.
The 34-year-old is down to the earth with showing off her true self in photos. In the one, Graham – who at this time was expecting twins claimed her husband, Justin Ervin, says her stretch mark looks like the tree of life.
Gizele Oliveria.
The former Victoria's Secret model, seen by a pool in LA, took to Instagram to share a snap of herself sporting unedited stretch marks.
Rihanna.
The mom-of-one and founder of Fenty Beauty shared this snap from a holiday in May 2018. It showed stretch marks on her glutes.
Iskra Lawrence.
The British model has been refusing to airbrush her photos, and this shot, in which her 'stripes' are confidently displayed, is no different.
Lady Gaga.
Gaga fans were left stunned after the singer posted a selfie that showcased her stretch marks in all their glory.
Kayla Itsines.
"This one is for the ladies asking me if I have stretch marks anywhere; yes, I sure do….. and if any of my friends or family are on here you know how much I love them!! I am a woman, and I am proud to be one and have these marks," the 27-year-old wrote in the above picture, which showed her stretch marks.
Ashley Graham.
The model has proved she's happy in her skin for years. And to bolster her point, this bikini pic from 2017 100% nailed it.
Kylie Jenner.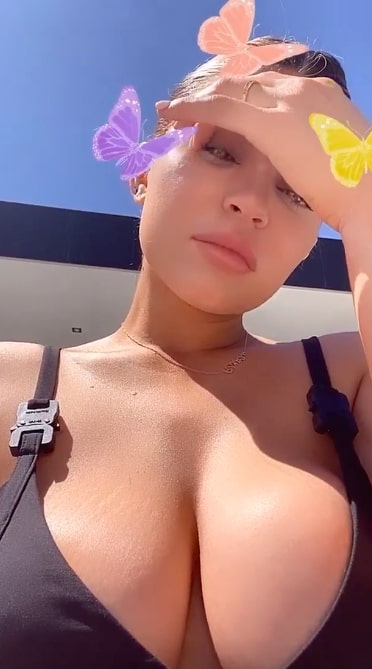 When Kylie posted a snap of herself on her IG story in which she showed the stretch marks on her b**bs, a Twitter user couldn't hold back but say: "I finally like a normal human after seeing that @kylieJenner also has b**b stretch marks!"